Our call was with Rui Carreira, CEO of TAAG (Angloa), Morne Visagie at ABSA (South Africa) and Sameer Adam at De Havilland (Canada).
TAAG just took delivery of their first Dash8. The three companies involved had to overcome Covid-induced hurdles. The permits needed to be signed, the documents that had to move between five countries, all served to slow down the deal. But because of the mutual trust these people had in each other they were able to overcome the hurdles and get the deal done and the delivery was made.
During the recording our three guests were rather formal. But after we stopped the recording, there was a burst of friendship and warmth between these three. (Would that we could have captured this!) They had overcome a series of delays and global pandemic induced mishaps to achieve something special. A new aircraft to a new airline customer, financed in a novel way. In the midst of the worst disruption to the global aviation industry.
It is our experience that people in the the commercial aviation business are really quite special. There is a bond based on trust and respect – in the end the value of personal relationships overcomes hurdles and deals get done.
[yourchannel video="wX5u7kFiUyM"]
Here's the arrival of the aircraft in Luanda.
[yourchannel video="I7n_E4zhYtQ"]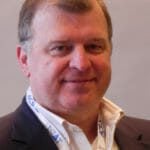 Co-Founder AirInsight. My previous life includes stints at Shell South Africa, CIC Research, and PA Consulting. Got bitten by the aviation bug and ended up an Avgeek. Then the data bug got me, making me a curious Avgeek seeking data-driven logic. Also, I appreciate conversations with smart people from whom I learn so much. Summary: I am very fortunate to work with and converse with great people.