737 MAX
We have been waiting for a while to see if there was anyway we could get a comparison of the A320neo with both engines and the 737 MAX compared for engine noise. The most objective way to do this is use videos from the first flight events. One has to also avoid OEM videos, some of which have music and other dubbing to prevent the real noise levels to be heard.
Bear in mind as you watch these videos, the weather was different for each first flight. The distances from the aircraft to camera microphone were different. Even the cameras were different. There is a lot of variation that make a comparison difficult. But absent any equal comparison, what else can you do? Continue reading →
Airbus announced their 2016 pricing and they added a 1.1% increase across the line. So what does this look like? After all, no customer pays retail.
Since each customer deal will see prices vary by many factors, we will stick to the retail prices to illustrate our points. Let's start with single aisle aircraft pricing since 2010. Continue reading →
Yesterday Boeing released their 2015 O&D numbers. Let's look at the numbers. First a chart to show the scale of O&D changes between 2014 and 2015. We excluded the BBJ numbers from the chart but have them in the tables – but they are small and have little impact on the big picture. Continue reading →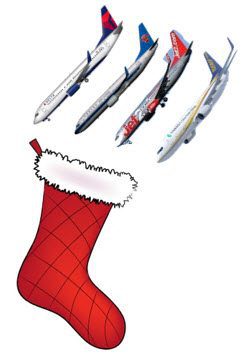 Boeing is having an excellent December.
On Monday Boeing announced an agreement with China Postal Airlines for 10 737NGs as Boeing Converted Freighters, pending program launch.
Yesterday Delta announced it will acquire 20 737-900ERs. The airline will also take 20 Embraer 190s (these likely ex- Air Canada) from Boeing.
Today Boeing announced China Southern Airlines has a commitment to purchase 80 737s. The commitment includes a combination of 30 737NGs and 50 737 MAXs, valued at $8.38bn at list prices.
Today Boeing also announced Jet2.com finalized an order three 737-800s, valued at $288m at list prices.
The month isn't over and that stocking already looks too small.
The long awaited moment to see a new aircraft is here again. Say hello to MAX. Boeing released these images. Continue reading →