ATR
Speaking in a meeting with the officials from Ministry of Roads and Urban Development in Tehran, Airbus Group CEO Tom Enders said the first delivery of 20 ATRs to Iran will start in November and will last through 2018. Iran Air finalized a contract with ATR on February 1 to purchase 20 aircraft.
Managing Director of Iran Air Farhad Parvaresh said earlier that Iran Air will receive two to four aircraft in 2016. The ATRs accommodate 70 passengers and will be flown on short routes, he explained.
So "first blood" to ATR. However we await to see how the rest of the recent Iranian aircraft order plays out. It appears the aircraft are all headed to the national airline. Clearly it has ambitions to match regional competitors. This will be a tough challenge. But another item getting scant attention – what about the various private airlines in Iran? Will any… Continue reading →
This morning ATR reported success with an order for 40 ATR72-600s to Iran Air.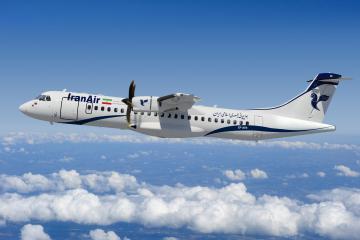 Continue reading →
ATR reported their 2015 numbers and they are impressive. The OEM set a new record of deliveries at 88 aircraft. It received 76 firm orders and 81 options and it passed the threshold of 200 operators.
ATR achieved a record turnover in 2015, increasing to $2bn (2014 was $1.8bn). During 2015 it increased deliveries by 72% over the 51 deliveries in 2010. The chart shows the company's performance since 2010. Note the larger airplane is now the far preferred model. Continue reading →
Late in the evening yesterday an intriguing note arrived.
"Air Lease Corporation (ALC) announced the sale of 25 ATR aircraft in its fleet to Nordic Aviation Capital A/S ("NAC"). These ATR aircraft have served ALC well in meeting the demand from airline customers operating shorter sector lengths. As the business has matured, ALC has focused more on its mainline jet aircraft operations with these turboprop aircraft now accounting for less than 5% of the current fleet. NAC is a global leader specializing in meeting the needs of ATR turboprop operators and this transaction adds further scale to their business. ALC anticipates that a majority of aircraft transfers will occur during the first half of 2016.
"This is a great result for ALC shareholders. Our ATR fleet is a profitable platform which assisted ALC with its early development. The sale of this portfolio allows us to deploy more capital to… Continue reading →
The commercial turboprop market remains essentially a two-horse race between ATR and Bombardier. The story is interesting. The chart below shows the order history for both models since 2000. ATR had a bumpy start but has done exceptionally well since 2004, albeit with much more volatile swings in its order book. Continue reading →