CFM
CFM just announced an important win for their LEAP engine. The Qantas Group today announced that it has selected CFM International's advanced LEAP-1A engine to power 78 A320neo currently on order. The engine order is valued at $2 billion list prices, including spares. Today's announcement takes total LEAP orders and commitments to more than 3,500 engines.
The first aircraft are scheduled for delivery in 2016 and will support Jetstar, the low-fare Qantas subsidiary. Qantas has been a CFM customer for more than two decades with 737.
It's a story that won't die, and the buzz around ISTAT 2012 was that Boeing continues to consider offering the Pratt & Whitney GTF on the 737 MAX. Continue reading →
This morning CFM provided the following PR: "CFM International (CFM) had a record year in 2011, logging orders for 1,500 commercial, military and spare CFM56 engines and commitments for 3,056 LEAP engines for a combined value of $51.7 billion at list price.
As the company logs record commitments, CFM is also achieving record production rates for the CFM56 product line. The company has built more than 1,000 engines per year since 2006, and the rate has grown steadily. In 2011, CFM delivered more than 1,300 engines, the highest rate in the industry, compared to 1,250 engines built in 2010. Current plans are to reach more than 1,600 engines per year by 2014."
This is what a great year looks like.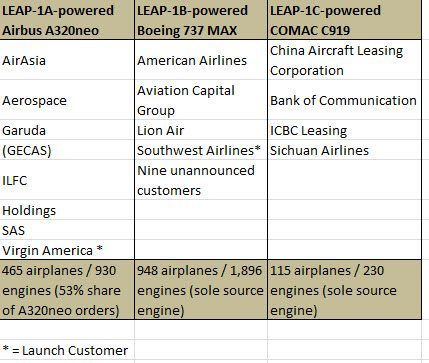 Southwest Airlines has just placed the largest aircraft order in Boeing history, ordering 58 737NG aircraft and becoming the launch customer for the 737Max, with 150 firm orders. Southwest, which was also launch customer for the 737-300, 737-500, and 737-700, will be the first to take delivery of the 737Max powered by the CFM Leap-1B engines.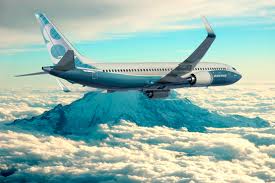 The combined order is valued at more than $19 billion at list prices, although our sources indicate that pricing is closer to $10 billion given the substantial discount provide to Southwest, which will remain the largest single customer for the 737 and remains an all-Boeing customer.
The order for new aircraft from Boeing comes after considerable pressure from Southwest and other customers to deliver more fuel efficient aircraft in the wake of recent fuel price increases. Boeing indicates that the max will be 10-12% more fuel efficient than current models, and claims "lowest operating… Continue reading →
We speak with Norman Hecht, an aviation consultant with 38 years in the business, 37 of them with a major engine OEM. Norm explains the most important factors in engine selection – there are nuances and airlines frequently bring in consultants to assist even if they have a long term relationship with the OEM. We spend 22 minutes also talking about Qantas and Rolls-Royce and the A330 which is unique in offering engines from all three OEMs. You can reach by Norman Hecht by email here .
The Dubai Air Show the week of November 13 will have a fair number of orders to announce by the Middle Eastern carriers and a small number of non-Gulf customers.
Some of these orders have been widely leaked already:
Emirates is expected to announce another large number of A380s.
Qatar is expected to double its small number of A380s to 10. This was supposed to be announced at the Paris Air Show, but Akbar Al-Baker, CEO of the airline, no-showed at an Airbus press conference already filled with a room full of people. This A380 and a large one for A320neos was to be announced at the Paris Air Show. Both should be announced at Dubai. The A320neo numbers 50 and should be with the PW GTF engine.
Qatar is also expected to announce its engine selection for the 787: GEnx. Gosh, ya think there might be a connection with… Continue reading