GTF
As Pratt & Whitney's new engine starts to operate it is interesting to review its long gestation. The start of the GTF goes far back to an engine few recall, named the "SuperFan". This engine was sold to Airbus for the first A340. It is rare to find an image of the original SuperFan engine. One of the original program's members shared this drawing with us.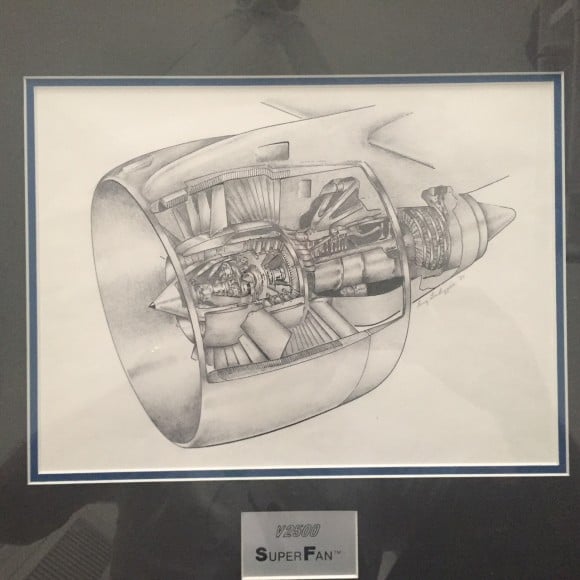 Early and critical work done by Howard Stryker and the IAE team on the SuperFan in the mid-80's should not be forgotten.
In the early 1980s Pratt & Whitney and Rolls-Royce entered into a joint venture, named International Aero Engines (IAE). The goal of this JV was to develop an all new, mid-size, turbofan aero-engine. The JV included Pratt & Whitney, Rolls-Royce, a consortium of Japanese companies, Fiat of Italy and MTU of Germany. The headquarters of the new company was located in Pratt's backyard,… Continue reading →
[EDITED]
There is increasing attention on A320neo engines. The reason for this is the delay in Airbus doing deliveries of their initial A320neos powered by the P&W GTF. Qatar was supposed to take its first aircraft in December and then deferred this to 2016 – with no firm date provided. This was followed by IndiGo also deferring its first A320neos with GTF engines. IndiGo now appears ready for deliveries starting in March. Meanwhile Lion Air selected the LEAP for its 174 A320neos.
Lufthansa stepped in and took delivery of the first two A320neos in January in two quiet affairs.
Is there a problem with the P&W GTF? It depends how one defines the problem. If the engine is allowed to cool down, it cannot be re-started again too soon. A restarted engine has to run at idle for three minutes before moving to full throttle until software fixes are… Continue reading →
The A320neo program continues its development, and we continue to update A320neo flight test hours. As the first aircraft readies for delivery, albeit a few weeks late, it is an appropriate time to see where the program stands as of year-end.
The chart below illustrates Airbus' ongoing flight test program hours through year end. Some of the test fleet with the GTF continues to operate and build more hours, despite full certification in place. We expect to see rising hours, especially for CFM LEAP powered version, as it goes through a similar regime that the P&W GTF endured for its certification.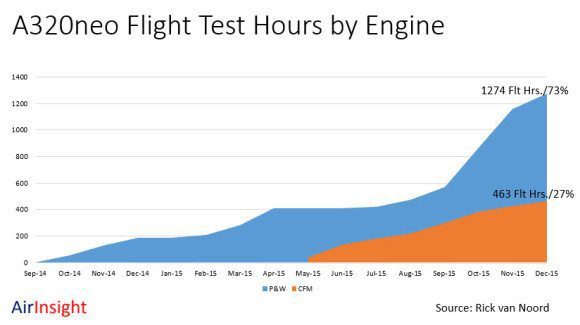 P&W has firmly stated their engine is ready for delivery and meets specifications as guaranteed for fuel efficiency, noise, emissions and weight. There are a few items that need to be addressed, but they are known and minor, and more in line with what you'd expect in an… Continue reading →
This week saw the GTF-powered A320neo flying again. This is no doubt of great relief to both the aircraft and engine OEMs. Even so, it appears Airbus may be signalling a delay. On an analyst call today Airbus spoke of contingency plans for delay of A320neo certification. These include the fact the majority of A320 deliveries in 2016 are of the "ceo" variety. Continue reading →
Airbus' A320neo flight test program remains a source of interest. Tracking the program we note that the P&W powered airplane is not flying, but has resumed ground testing. Airbus tells us "it will fly in the coming weeks" and is doing ground tests now. Continue reading →
Mitsubishi started low speed taxi tests on the MRJ-90. We were delighted when Mitsubishi shared an unedited video – no annoying music over other aircraft test videos that serves no purpose. People want to hear the aircraft and get a sense of what is happening. So thank you and well done Mitsubishi!
Like all new aircraft, this is exciting. The aircraft looks sleek, with good lines. But the key takeaway here is the engine – listen carefully because it is not easy to hear. This is the one item people are going to notice about the next generation of aircraft; they are amazingly quiet.