Boeing made the better bet when it decided to go for the 787, while Airbus went for the A380.  This should have given Boeing a big advantage over Airbus. After all, while Boeing bet on the 777, Airbus tried to refresh the A340.  These were two fumbles by Airbus.  The A350 v1 was another Airbus misstep.  These missteps by Airbus are odd in retrospect when one considers how successful the A330 was, even back then.
The lesson from that era is that the future belongs to big twins.  Boeing bet first and, largely, has been successful.  The 777 went on, in the 777-300ER, to create the benchmark long-haul airliner.  It's economics outclassed the revised A340s.  (Remember Virgin Atlantic's slightly desperate Four Engines for Longhaul campaign?)
Boeing tried (half-heartedly) with the 747-8, but the sun was setting on four-engine airliners.  Fortunately for Boeing, its experience with freighters ensures that the 747-8 will soldier on.  Meanwhile, Boeing had to suffer through some ignominy with the 787-8 and its battery.  That settled down and the -9 and -10 have proven the basic 787 concept to be a sound platform. Meanwhile, the 777X program's initial warm market reception has cooled.
At Airbus, there was one more fumble – the A350-800.  Despite some market interest, this soon dissipated. The A350-900 and later the -1000 were what the market wanted.  And, lucky for Airbus, the A330 was refreshed as a "neo".  That A330neo program shows that this program is a sound platform that keeps being able to be improved.  The initial market reluctance to the -800 has now turned into orders with the first delivery about to be made.
What's the big twin score as of last month?  Our data starts in January 2000.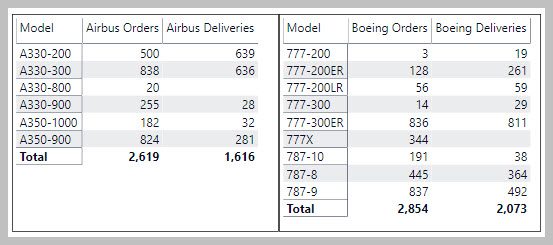 We summarize the tables with these two charts. Airbus is at 61.7% of orders delivered, while Boeing is at 72.6%. Boeing has 28.3% more deliveries but only 9% more orders than Airbus.   So its a tighter race than many realize.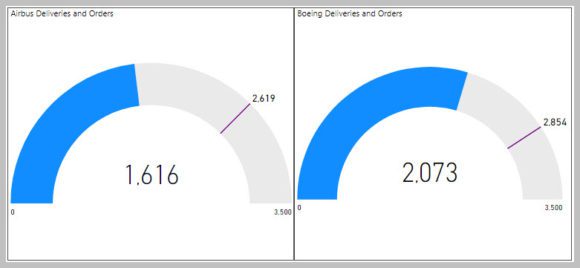 Breaking down the orders and deliveries (from January 2000 through last month end) for the big twins we get the following.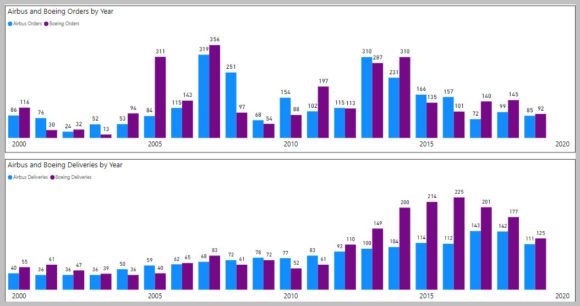 What we see is that the lead Boeing should have over Airbus is not as big as might have been expected.  Boeing has nine models on offer (we kept the 777x as one).  Airbus has six on offer.
Looking at the twenty years of order history – Airbus and Boeing each have an annual win ten times.  Over the same period, Boeing has out delivered Airbus 14 times.  Notice how Airbus deliveries have kept a steady rising pace while Boeing's have waned post-2016.
Considering that Boeing made fewer product fumbles, it should be further ahead of Airbus in big twins.  Airbus, on the other hand, has shown an ability to learn from its fumbles are recover quickly.  An important reason for Airbus doing as well as it has, was that with every 787 fumble, customers ordered more A330s.  This as been a saving grace for Airbus and a cause of annoyance for Boeing.
As the market settles around two primary families from Airbus (A330neo & A350) and two families from Boeing (787 & 777X) the race will grow more intense.  Neither OEM wants to spend R&D on new models until next-generation engine technologies emerge.  (Digital "paper planes" will be toyed with of course) What we should expect is tweaks at the margins – something that Qantas is pushing with its Project Sunrise.  The OEMs will try to squeeze these families for more range by increasing MTOW.  GE and Rolls-Royce will find ways to PIP their engines to help this range grab.
Meanwhile, we hear you ask, where do 767 and NMA fit in?  Nowhere here, since this is big-twin focused.  Rumors suggest that Boeing is looking at a 767 re-engine for the middle-of-the-market since Airbus took the 757 replacement with the A321XLR.  But there is still no true replacement for the 757/767 category at Boeing, the creator and initiator of this segment and, amazingly,  has let half of it slip away.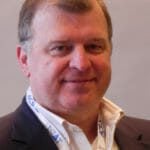 Co-Founder AirInsight. My previous life includes stints at Shell South Africa, CIC Research, and PA Consulting. Got bitten by the aviation bug and ended up an Avgeek. Then the data bug got me, making me a curious Avgeek seeking data-driven logic. Also, I appreciate conversations with smart people from whom I learn so much. Summary: I am very fortunate to work with and converse with great people.