US Airline Schedule Performance
When you buy an airline ticket, you likely start with a date, price, and time tradeoff.  Your entire trip, once selected and paid for, is schedule driven.  You know when you depart and arrive – it's published after all.  You paid 100c on the Dollar for what you were offered.  Great, right? 
But there's a thing called the Contract of Carriage.  Here's the Southwest Airlines version.  53 pages of reasons they are not obliged to deliver what you were sold and paid for.  Each airline has its own version of the same thing.  To be clear, you're never going to win an argument with an airline about what you bought from their reservation system.
So how do protect yourself from the legal word salad?  The best option is information.
You need to know about airline schedule performance.  To help with this we developed a data model that allows you to get a sense of what actually happens. This way you're informed about actual performance. The model has 2022 pre-selected but you can change the year to see the performance back to 2016.  You can also select an Origin city (top 30 listed) and select a Destination (top 30 listed).  This allows you to pick a city pair to see the overall performance and then select an airline to see the actual performance. 
Notice that once you select a city pair, only those airlines that serve the market are listed.  The small table lists the average arrival delays for airlines serving that city pair. Red means poor and green means good. The delay times shown are averages from thousands of flights.  Any delayed arrival over 15 minutes should inform your planning.

The model shows departure time blocks and arrival time blocks. It also shows that taxi-out and taxi-in times are pretty consistent. The model shows that as the day progresses, departure delays rise.  There is a parallel rise in arrival delays. The old truth that the most "on-time" schedule is among the earliest flights remains true.

For optimal viewing please click the double-headed arrow at the bottom right of the model.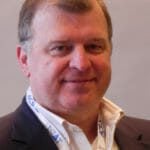 Co-Founder AirInsight. My previous life includes stints at Shell South Africa, CIC Research, and PA Consulting. Got bitten by the aviation bug and ended up an Avgeek. Then the data bug got me, making me a curious Avgeek seeking data-driven logic. Also, I appreciate conversations with smart people from whom I learn so much. Summary: I am very fortunate to work with and converse with great people.