US Airport Times
With the US DoT On-Time reporting published through December 2022, we can share our updated model.  Remember to click the double-headed arrow at the bottom right of the model for optimal viewing.  Here is our US Airport Times Model.

Page 1 – This page shows four charts.
The first chart shows taxi time (in and out) – as you can see, this metric has not progressed. A typical flight takes close to 30 minutes in taxi time.

The following chart shows air time and taxi time per flight. Since the typical flight is 130 minutes, 30 minutes of taxi time is impactful. 

The third chart shows elapsed flight times by airline – click the play button to watch the changes over time. 

The fourth chart shows the amount of air time to total elapsed time.  The dashed line is the industry average at ~84%.

Page 2 – Airport Arrival Times
The table on the left lists airports in descending arrival delays in minutes—the redder, the worse, and the greener, the better. As you can see, the pandemic did some good for arrival times.  But we are back to the bad performance already.

The dashed line on the chart is the industry average.  Not only have arrivals gotten steadily later, but by December 2022, they reached a time high since 2016.  Progress? What is that, exactly?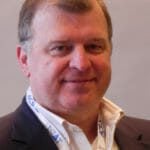 Co-Founder AirInsight. My previous life includes stints at Shell South Africa, CIC Research, and PA Consulting. Got bitten by the aviation bug and ended up an Avgeek. Then the data bug got me, making me a curious Avgeek seeking data-driven logic. Also, I appreciate conversations with smart people from whom I learn so much. Summary: I am very fortunate to work with and converse with great people.