UPDATE – From this Sunday until coming Thursday, the international aerospace and aviation scene gathers again for the biggest international airshow in 21 months: Dubai Airshow. AirInsight will be there to cover the event for you, but what to expect from Dubai Airshow?
With the airline and aerospace industry still very much in recovery mode from the Covid-crisis that still continues, it's hard to imagine that Dubai Airshow will see as many orders as in the recent past. Remember 2013, when Emirates, Qatar, and Etihad all signed up for the Boeing 777X, Emirates bought more Airbus A380s and the show ended with $200 billion in sales? The 2017 edition saw $114 billion in sales, while 2019 was, by comparison, a modest event at 'just' $54.5 billion.
While Boeing, Airbus, and Embraer are all optimistic about the long-term recovery of the industry and project significant growth and orders, will this translate into new or follow-on orders in Dubai? Unlikely so. Remember, of all the 777X ordered eight years ago, not a single has been delivered. The program is behind schedule and only this week the 777-9 will be present at an airshow for the first time. It's the same for Emirates backlog of 50 A350s and 30 787s ordered in 2019: none has been delivered. That year, Air Arabia signed a huge order for 120 Airbus A320neo-family aircraft, but delivery is due from 2024. So no hurry from them to buy more. Flydubai ordered 225 MAX in 2017 but cut back on that by 65 earlier this year as it exits the pandemic crisis with a revised strategy.
So looking at what the Middle East carriers have on the backlog, it would be surprising to see them sign up for new orders this coming week. But you never know, as for example Saudi Arabia has plans to launch a new carrier alongside Saudia. Its plans seem to be in very early stages but if they are ready for something, it could be announced in Dubai.
And if we spot KLM's Pieter Elbers or Transavia's Marcel de Nooijer and Nathalie Stubler, then we know that an announcement on their fleet renewal plans is very near.
Any news on the big new freighters?
Probably the most anticipated news is that on the big freighter front. Will Airbus announce its first customer(s) for the A350 Freighter that was officially launched in July? Chief Commercial Officer Christian Scherer said in September that Airbus was taking its time but confirmed that the A350F "is on offer, and it is selling." Qatar Airways is an obvious candidate, but until the airline and Airbus have solved their spat over the (paint quality) issue on a number of A350s, don't expect CEO Akbar Al Baker to sign any piece of paper with an Airbus logo on it.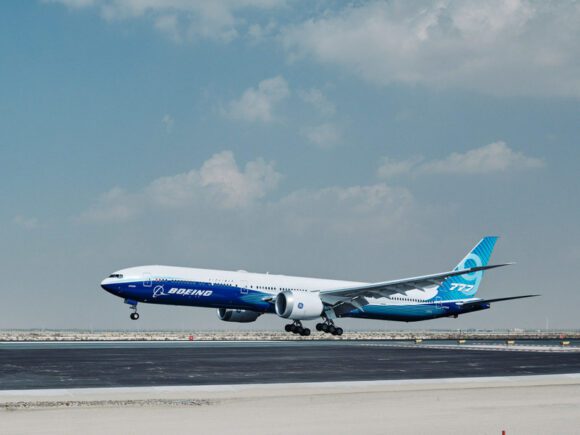 Boeing 777-9 prototype WH001 arrived early in Dubai on November 9. (Boeing)
However, his signature could be on a piece of Boeing's. CEO David Calhoun and CCO Ihssane Mounir have indicated that Boeing will launch a freighter version of the 777X, likely to be dubbed the 777-8F. Dubai Airshow looks like an obvious occasion to officially do so. It should produce a successor to the very promising 777F. Until now, from the media schedule, it's not clear when Boeing will announce something, so we have to be to check day by day.
Looking at their presence in Dubai, the first Boeing 777-9 prototype WH001 arrived in Dubai early for the show on November 9 (to give CEOs a sneak preview?) and will be on the static and flying display. Also present will be the Alaska Airlines MAX 9 ecoDemonstrator that showcases some twenty innovations to reduce fuel burn, emissions, and noise. Etihad will have its 787-10 Greenliner on standby to update media on its program to reduce fuel burn and improve efficiency, including the use of sustainable aviation fuels. flydubai will also showcase a MAX 8 as it did four years ago.
Another 787-10 is on display from Saudia, the first time the carrier of Saudi Arabia participates at Dubai Airshow. Saudia says it expects to make important announcements regarding the future of the group and its strategic role in expanding aviation in the country. This could include more details of the muted second national airline or on low-cost subsidiary flyadeal.
It's the same for Israel Aerospace Industries (IAI), which never before has been at this event but now is there to showcase in defense and civil programs, including the passenger to freighter conversions of the Boeing 737, 767, and 777.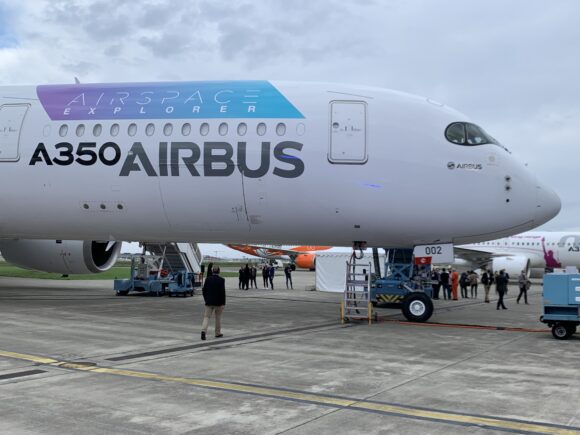 There will be three Airbus A350's in Dubai, including MSN002 with numerous cabin updates. (Richard Schuurman)
Airbus almost its entire commercial aircraft portfolio to the show. airBaltic will showcase the A220-300, just as it has done at the past two events. Wizz Air and Air Arabia are both present with an A321neo, while Uganda Airlines has dispatched an A330-900 to Dubai.
There will be three A350 there too: one -900 from Ethiopian and the other -900 test aircraft MSN002 that features a number of Airspace cabin updates (Explorer) to show to potential customers. In September, AirInsight already had the opportunity to see these new ideas in Toulouse. The third is an A350-1000 from Etihad. Emirates will have an A380 on static display.
An A320ACJ from Acropolis Aviation has also flown to Al Maktoum airport. There will be a few announcements on Airbus' corporate jets. Comlux has scheduled an event on the A220 TwoTwenty, while Lufthansa Technik has released more details of its Explorer concept that is based on the ACJ330. Its cabin features large-scale projections on the ceiling like blue skies or a disco theme from a system offered by Diehl. We saw a smaller version of this idea on the aforementioned A350 MSN002.
Embraer will show its E195-E2 once again, as in 2019. Vice President of Marketing, Rodrigo Silva e Souza, expects Dubai Airshow to be most of all an event where the industry reconnects again and is able to meet in person. If you don't include this summer's Moscow Airshow or Zhuhai in September, the 2020 Singapore Airshow was the last event where this was possible. Paris 2021 and Farnborough 2020 were both canceled because of the pandemic.
Embraer's isn't expecting to announce any significant aircraft deals but will have a lot to tell about its sustainability strategy, including the four regional aircraft concepts under the Energia program that were unveiled on November 8. While the Brazilians seem to struggle to get a foot in between the door in the Middle East, Dubai Airshow is important for them as many African carriers come and visit. Air Peace ordered some E195-E2s in 2019.
ATR has planned two media briefings in which the turboprop maker will likely announce updates on its sustainability roadmap. Except for preparing the ATR-family for SAFs and possibly hydrogen, it's been a bit quiet on the airframer's plans.
Its Canadian rival De Havilland Canada, which went home with 37 orders and/or Letters of Intent in 2019, has a modest presence in Dubai. As the production of the Dash 8-400 is winding down in Downsview, only to be resumed at an unspecified date and location, DHC is in a difficult position to sell new aircraft. It will focus on cabin updates and support.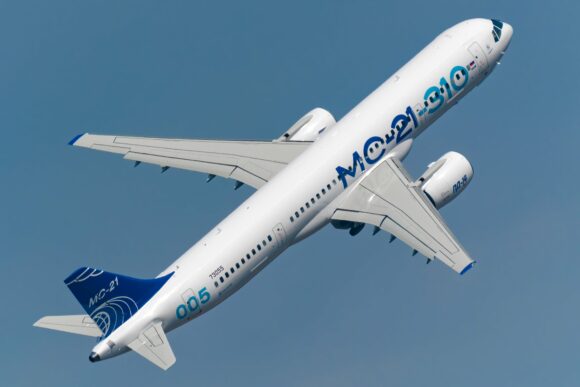 The Russian Irkut MC-21 will make its first appearance at a big international airshow in Dubai. (UAC)
We are looking forward to Monday when the Russians have planned a briefing on their civil aircraft and engine programs. United Aircaft Corporation and its parent Rostec have the Irkut MC-21 on-site in Dubai, the first major international event where the newest Russian airliner is present. The aircraft flown into Dubai is the -310 version with Aviadvigatel PD-14 engines. Sukhoi will show its SBJ business jet also presented at MAKS2021 in July. The presence of both aircraft clearly demonstrates that UAC is eager to enter the international stage, although it will need international certification of the MC-21 first if it wants to succeed.
Then there are the conferences at Dubai Airshow like Cargo Connect, Global Air Traffic Management, TechXplore, Aviation Sustainability, Advanced Aerial Mobility, and Space Forum. Plus over 1.200 exhibitors are on-site to present their latest products and services.
We will keep you updated every day, so there's no excuse not to follow AirInsight on the net, Twitter, or LinkedIn.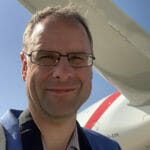 Active as a journalist since 1987, with a background in newspapers, magazines, and a regional news station, Richard has been covering commercial aviation on a freelance basis since late 2016.
Richard is contributing to AirInsight since December 2018. He also writes for Airliner World, Aviation News, Piloot & Vliegtuig, and Luchtvaartnieuws Magazine. Twitter: @rschuur_aero.