Despite record sales and deliveries, Airbus has ended 2019 with a EUR 1.362 billion loss as it has included the penalties of the bribery case and additional charges on the A400M-transporter in its full-year results, the airframer reported on February 13. Not included in FY19 but nevertheless important news: Airbus has acquired the remaining shares of Bombardier in the A220-program.
Airbus recorded Group revenues of EUR 70.478 billion compared to 63.707 in 2018, or +11 percent. EBIT Adjusted grew 19 percent from EUR 5.834 billion to 6.946 billion. EBIT reported was down 73 percent from EUR 5.048 billion to 1.339 billion, the result of a number of additional costs.
They include EUR 3.598 billion related to penalties in the bribery case, which was settled with the French, British, and American authorities on January 31 after a 3,5-year investigation.
Another charge on the A400M
Airbus also has taken another EUR 1.212 billion charge on the A400M military transport aircraft as its market outlook remains 'challenging' due to export limitations from a repeatedly extended by Germany to Saudi Arabia. This ban has also resulted in a EUR 221 million charge on deferred export licenses.
The company also took another EUR 202 million charge on the winding down of the A380 production, which was announced exactly a year ago and will be completed in 2021.
Other costs attributed to FY19 include a EUR 170 million dollar pre-delivery payment mismatch and a balance sheet evaluation, EUR 103 million on a restructuring plan of its key component supplier Premium AEROTEC, where an unspecified number of jobs will be shelved to keep the German company competitive. Also included are EUR 101 million in compliance costs. Total charges and costs amounted to EUR 6.946 billion.
Combined, costs drove down the net result from a EUR 3.054 billion profit to a 1.362 billion loss. Free cash flow was one percent down to EUR 3.475 billion.
Commercial aircraft
Looking at Commercial Aircraft, Airbus had a solid 2019 with record deliveries of 863 aircraft and 768 net sales, making it the biggest airframer in the world for the first time. The order backlog is 7.482.
Revenues were up 14 percent from EUR 47.970 billion to 54.775 billion. EBIT Adjusted was +32 percent to EUR 6.358 billion, reflecting the ramp-up of A320neo deliveries which at 551 were 43 percent higher than in 2018. Despite continuing issues ("A major risk in 2019"- Guillaume Faury) with the production of the A321neo Airbus Cabin Flex (ACF) version, deliveries of this version were up 100 compared to 2018. Deliveries are running six months late which will take one to 1,5 years to tackle.
As reported here, Airbus will tackle the issue by transforming the A380 assembly line in Toulouse into an A321neo line from 2022. This plus increased production in Mobile and Tianjin allows the A320neo-rate to increase by one or two a month beyond rate 63, which will be introduced next year. This brings the rate to 65 in 2024. Airbus will invest some EUR 300 million in A320neo-production facilities this year. Faury said Airbus will keep looking at ramping up even more but was not conclusive on if and when rate 70 will be needed.
With a huge backlog of over 450 A321XLRs, Airbus is in dire need of additional production capacity for the type that forced Boeing into a rethink of the New Mid-market Aircraft (NMA).
A350 break-even
As was forecasted, the A350-program has become break-even in 2019 after just five years of production. Airbus delivered 112 A350s last year or on average 9.3 a month. This rate of 9 to 10 a month will be kept for this year. Further improvement in profitability is one of the targets set out for this year.
Airbus delivered 53 A330's, most of them of the new -900 version. As the widebody market has been weakening, deliveries will be limited to 40/year in 2020 or 3.3 a month. By coincidence, the A330-800 received its type certification today from both FAA and EASA, having completed a 370-hours flight test program with just a single aircraft. The -800 is the slowest selling type in Airbus' portfolio with just 14 orders: 8 from Kuwait Airways, 2 from Uganda Airlines, and 4 from undisclosed customers.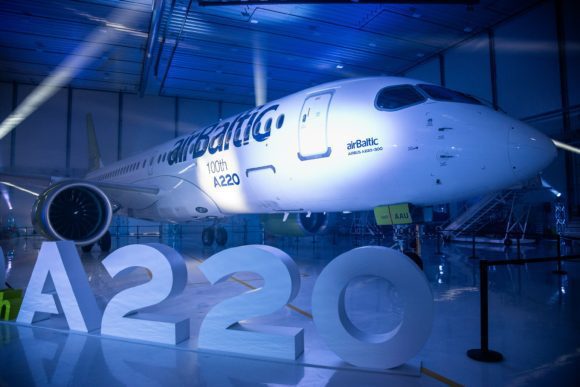 A220-program now 75 percent-owned
Just minutes before releasing the FY19 results, Airbus announced it had reached an agreement on taking a 75 percent share of the A220-program for $591 million. Investissement Quebec will have the remaining 25 percent, meaning that Bombardier is now out of the program it launched as the C Series over a decade ago.
Bombardier sold 50.1 percent to Airbus in October 2017, retaining 31 percent while IQ owned 19 percent. That agreement obliged Bombardier to fund cash shortfalls for the coming years. After rethinking its strategy and selling its commercial aircraft activities to Viking/De Havilland Canada, Mitsubishi, and Spirit AeroSystems, Bombardier no longer was willing to invest in the A220 program. A huge investment is needed for a steep ramp-up in production to around 150-160 a year by the mid-20s.
The latest agreement also includes the workshare of the A330, which together with the A220 will be transferred to Airbus through its Stelia Aerospace subsidiary. This secures 360 jobs in Quebec, while in total Airbus will employ 3.300 staff in Canada.
Airbus has already paid Bombardier $531 million, with $60 million due in 2020-21. Any Bombardier warrants owned by Airbus have been canceled.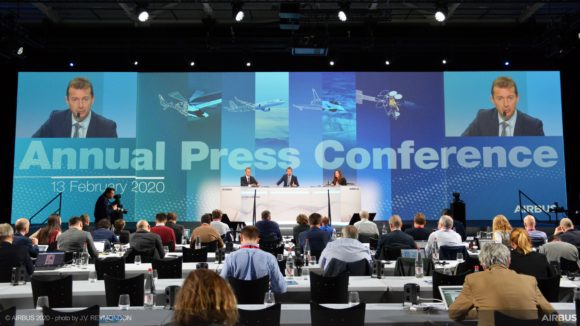 Guidance 2020
The uncertainties of the impact of the coronavirus on air travel make it very difficult to read 2020, Airbus says. The company has established a 'crisis cell' to follow events in China carefully, Faury said, but the crisis is too short to fully see the effects. Assembly at the Tianjin plant has restarted this week, with last week's missed production of A320neo's to be caught up during the year.
Based on current assumptions, Commercial Aircraft is expected to deliver around 880 aircraft this year. EBIT Adjusted should grow to EUR 7.5 billion, with free cash flow before mergers and acquisition and customer financing of around EUR 4 billion.
Asked about the bribery case, Faury said that Airbus has done a lot since 2017 to put a healthy compliance system in place. "We'll continueto work on compliance, working on rules and do business in an environment without bribery. But you're never there. We want this to be the norm and we see that the majority of the world wants to go in this direction. Something has changed here."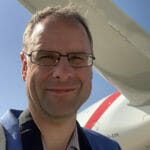 Active as a journalist since 1987, with a background in newspapers, magazines, and a regional news station, Richard has been covering commercial aviation on a freelance basis since late 2016.
Richard is contributing to AirInsight since December 2018. He also writes for Airliner World, Aviation News, Piloot & Vliegtuig, and Luchtvaartnieuws Magazine. Twitter: @rschuur_aero.