Boeing's announcement that it will start remarketing some MAX aircraft that were earmarked for Chinese customers might have surprised a few on Thursday, but the decision has been in the making for some time. Already in its Q2 investor's call in July, Boeing management said that they were de-risking China from the MAX program. Yesterday's announcement is a confirmation of what was coming. Boeing de-risks China by remarketing stored MAX.
Boeing Group President and CEO David Calhoun and Chief Financial Officer Brian West mentioned the situation in China in two separate events, Calhoun in Washington and West during the Morgan Stanley Laguna Conference.
The Chinese regulatory agency CAAC said in December last year that it was ready to re-certify the MAX, which had been grounded since March 2019 and the second of two fatal MAX crashes. Airlines needed to demonstrate that aircraft that had already been delivered were modified and that crew was trained for the revised cockpit procedures. "In February, we had customers doing flight tests. And then everything stopped. They paused because they had to deal with their Covid restrictions", West said. "We are constantly communicating with our customers and regulators and we stand ready that when they are ready to pick up where they left off, we are ready." West didn't mention that the pause will have been influenced by geopolitical tensions between China and the US, which haven't eased since the visit of House Speaker Pelosi to Taiwan in early August.
De-risking China
Meanwhile, about half of the MAX aircraft that have been built and are in inventory are for Chinese customers. By the end of June, Boeing had 290 MAX 8s and -9s in inventory, so half of them for China would mean that this is 140-150 aircraft. In July, West said during the Q2 earnings call that "we've de-risked China from our near-term delivery profile. (…) Given this uncertainty with our customers in China, we now expect more deliveries of airplanes from inventory to shift into 2024."
At Thursday's Morgan Stanley event, Brian West confirmed that Boeing will start remarketing some MAX that were built for Chinese customers: "We have deferred decisions on those planes for a long time but we can't defer that decision forever. So we will begin to remarket some of those airplanes that were otherwise earmarked for those Chinese customers. We don't do that lightly, these customers are incredibly important, but we deferred this decision long. And now we are thinking about investors, where it is time to start to look to reposition. We have the confidence that we can remarket them."
Half the MAX inventory is for China
Some Chinese customers have already decided to cancel MAX. Okay Airways has de-booked two MAX, Boeing confirmed this week in its August Orders and Deliveries review. Checking the production list, we count 142 MAX 8s for Chinese customers. They include 9 Air (4), Shenzhen Airlines (17), China Southern (26), Shanghai Airlines (11), Air China (22), Shandong Airlines (14), Donghai Airlines (7), Xiamen Airlines (25), Kunming Airlines (3), Okay Airways (2), Lucky Air (1), China Eastern (6), ICBC Leasing (2), and Fuzhou Airlines (2). Many have been built in 2019, but the newest MAX 8 for a Chinese customer (Xiamen) made its first flight in July. No Chinese customers show on the MAX 7, -9, and -10 production lists.  
Getting the inventory of MAX and 787s out remains a key priority for Boeing, Brian West repeated. Dreamliner deliveries have resumed in August but it will take into 2024 before all 118 remaining aircraft will have been reworked, checked, and delivered. The production rate should steadily grow to five 787s per month, but stabilizing production and supply chain is to decide on any rate increases. This also applies to the MAX, which Boeing will continue to stabilize at 31 per month as persistent supply and labor issues continue, notably with engine maker CFM. "They are working very hard to navigate through the constraints, which will likely extend into 2023," said West.
On the certification of the MAX 7 and 10, both Calhoun and West said they were cautiously optimistic that the -7 should be fine and that the -10 could be approved by the regulators just before the end of 2022. That way, it would have met the deadline for meeting the safety standards as they currently apply and don't need a redesign of its cockpit systems to include a new alerting system that becomes mandatory for all aircraft that are certified from January 1, 2023. If needed, Boeing will seek an extension of the current regulations. The MAX 10 prototype has been doing various test flights in the US over the past days and weeks.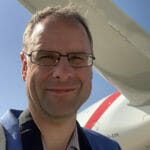 Active as a journalist since 1987, with a background in newspapers, magazines, and a regional news station, Richard has been covering commercial aviation on a freelance basis since late 2016.
Richard is contributing to AirInsight since December 2018. He also writes for Airliner World, Aviation News, Piloot & Vliegtuig, and Luchtvaartnieuws Magazine. Twitter: @rschuur_aero.