Boeing intends to reduce its overall workforce by 10 percent or some 16.000 employees as it is confronted by the new market reality after the Covid-19 crisis, CEO David Calhoun has written in a letter to employees. The Commercial Airplanes division will see reductions of even 15 percent.
The airframer will also reduce production rates for most of its commercial aircraft programs, it announced on April 29 in its Q1-results presentation.
Staff is encouraged to follow voluntary layoff, through attrition or by non-voluntary measures, Calhoun says. While all divisions are affected, those impacted most by the crisis will see deeper cuts. "Demand won't support the production for now."
Boeing reported a Q1 Group loss of $-641 million compared to a $2.149 billion profit the previous year. Operating loss from operations is $-1.353 billion versus a $2.350 billion profit.
Revenues were $16.908 billion, down from $22.917 billion. While sales of products were some 4 billion lower, sales of services performed were higher at $2.717 billion compared to $2.697 billion.
Net loss Commercial -2 billion
Commercial Airplanes recorded 48 percent lower revenues at $6.205 billion (last year: 11.822 billion). Net loss from operations is $-2.068 billion compared to a $1.173 billion profit last year. The operating margin of the division dropped from +9.9 percent to -33.3 percent.
Commercial was confronted by all kinds of adversities. The continuing MAX crisis contributed to $797 million in abnormal production costs for the temporary suspension of production.  Including updated production rates, these costs increased by another $1billion and now totals $5 billion.
Another $336 million has been set aside as a charge to cover costs related to the 737NG's pickle fork issue, which on a large number of aircraft requires repairs. Closure of the Puget Sound production facilities in March resulted in $137 million in abnormal costs, while reduced margins on the 787 due to Covid-19 also negatively impacted results. Puget Sound has re-opened since April 24 while 787-production in North Charleston is to resume on May 3.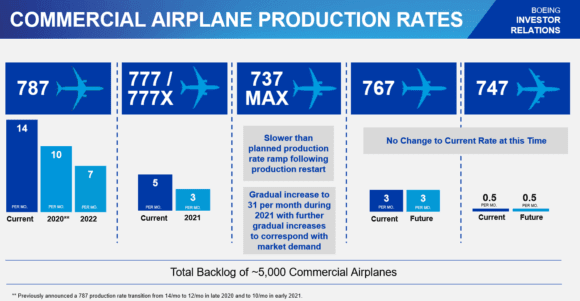 Production rates adjusted
Inevitably, Boeing has adjusted its production rates for most models except the 747 and 767. Once production of the MAX is restarted at low numbers, the rates are planned to go up to 31 per month in 2021. This is half the output originally planned before the MAX-grounding and Covid-impact.
Calhoun repeated that it is the top priority to deliver the 450 MAX-aircraft that have been built and are in storage. He hopes this to happen in Q3 when the MAX is re-certified again. Final validation of the latest software updates and technical documentation is underway but has been delayed by the Covid-crisis. "Solid progress has been made and we expect regulatory approval in Q3 at the same time we cane resume deliveries."
Rates of the 787 Dreamliner will be reduced from 14 to 10 already this year instead of next year. In 2022, another reduction is made to 7 a month. "Demand for the 787 has been pretty strong but post-Covid the international route structure will come back much slower to widebodies. We will suffer from that", says Calhoun.
It is the same with the 777 and 777X, which will be built at rate 3 per month in 2021. This is down from rate 5 but actually, Boeing delivers only 2.5 per month right now as it is in the transition phase between the old and the new model. The second 777-9 made a succesful maiden flight on April 30.
The revised rates reflect the current status of the market, Calhoun stressed: "These numbers include everything we know what customers want. We are not looking through rose-colored glasses."
Despite the market expected to remain soft for the next two to three years, Boeing sees some interesting developments happening right now. "I am surprised by the extent of rationalization of fleets. Post-Covid we will see a newer fleet as airlines are retiring older and less-efficient ones. Some will want to order new aircraft simply to rationalize their fleet."
As newer aircraft will need less maintenance, Boeing's Global Services can expect prolonged lower demand. In Q1, revenues were about flat at $4.628 billion, and the operating margin a solid 15.3 percent, but Calhoun and CFO Greg Smith warn that this will change.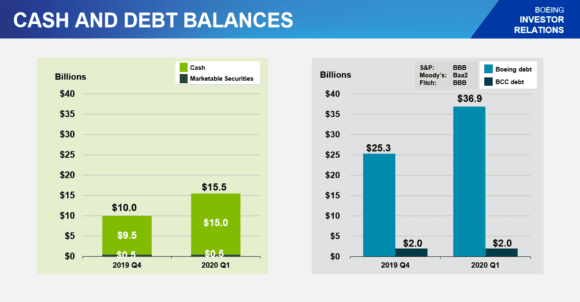 It's about cash and liquidity
Just like at Airbus, the focus at Boeing will be on cash and liquidity. In Q1, free cash flow went further negative at $-4.730 billion from $2.287 billion in 2019. This largely reflects the grounding of the MAX and the impact of Covid-related costs as well as the timing of receipts and expenditures.
The company reinforced its cash position from $10 billion on January 1 to $15.5 billion on March 31, although Smith confirmed unspecified cash burn has reduced this since then. Including loans, Boeing has $38.9 billion in debts after it drew down a term loan facility.
Smith is positive that Boeing will succeed in obtaining sufficient liquidity to fund its operations. This was confirmed on April 30, when Boeing announced that a bond offering offered the same day had produced $25 billion in debt instruments.  While the offering will formally close on May 4, Boeing said it will not seek additional capital through the markets or government funding at this time.
In the webcast, Calhoun clarified that his recent call for $60 billion in government aid was not to the benefit of just Boeing but to the whole supplier infrastructure. Boeing will do everything it takes to assist its suppliers and says there is more stability now thanks to state aid provided to the industry.
What about Embraer?
Calhoun had only a few words to spent on Embraer and the decision to terminate the joint-venture agreement last weekend. He repeated that in Boeing's view Embraer failed to meet critical conditions. "We reached the point that continued negotiations weren't helpful."
When asked about how an independent Embraer will survive in the single-aisle market against Boeing and Airbus, Calhoun made an interesting remark: "Embraer will gonna fight to the nails with Airbus and the A220 but it will not in any significant way change the market for Boeing." Was the joint-venture not such a good idea after all?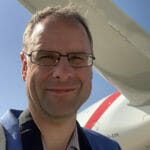 Active as a journalist since 1987, with a background in newspapers, magazines, and a regional news station, Richard has been covering commercial aviation on a freelance basis since late 2016.
Richard is contributing to AirInsight since December 2018. He also writes for Airliner World, Aviation News, Piloot & Vliegtuig, and Luchtvaartnieuws Magazine. Twitter: @rschuur_aero.