For now, it is just a Memorandum of Understanding, but Embraer and Fokker intend to establish "meaningful and strategic partnerships" across the globe on Defense, Commercial, and Space projects. Embraer, Fokker Services Group with Fokker Techniek and Fokker Services, signed the MoU on October 18 at an event in Hoogerheide (The Netherlands). Embraer and Fokker explore closer ties.
The history of Fokker dates back to 1912 when Anthony Fokker founded his aircraft factory that was to have a leading role in the world's aviation until the late thirties. After the Second World War, Fokker lost out to Douglas, Boeing, and Lockheed but remained an airframer producing reliable turboprops (F27, F50, F60) and turbofans (F28, F70, F100) until its bankruptcy in 1996. Although not as big as it used to be, there is still a large active fleet of F70s and F100s, notably in Australia with Alliance. It also had a strong presence in the Defense market and has been a component supplier to Airbus.
While no longer making its own airliners, Fokker Techniek, Fokker Services, and Fokker Space have continued as trusted companies in the aviation industry. Fokker Techniek is a leading maintenance, repair, and overhaul (MRO) plus VIP conversions company in Woensdrecht. Close by at Hoogerheide is Fokker Services, offering MRO services, aircraft modifications, and parts supply for both commercial aircraft and defense projects. Remember that Fokker used to assemble F-16 fighters and is a tier-1 supplier on the Lockheed Martin F-35, which has been purchased by the Dutch Royal Air Force. Fokker Space has evolved into Airbus Defence and Space Netherlands. Fokker Aerostructures and Fokker Landing Gear are other business units.
Fokker Techniek and Fokker Services were owned by GKN Aerospace but sold to Panta Holdings on April 1 this year. Panta is owned by Dutch entrepreneur Jaap Rosen Jacobsen, who has tried on numerous occasions to relaunch Fokker into the commercial aircraft market with his Rekkof (Fokker spelled the other way round…) 130, later renamed Fokker 130NG. Plans existed for an assembly plant at Lelystad Airport but never materialized.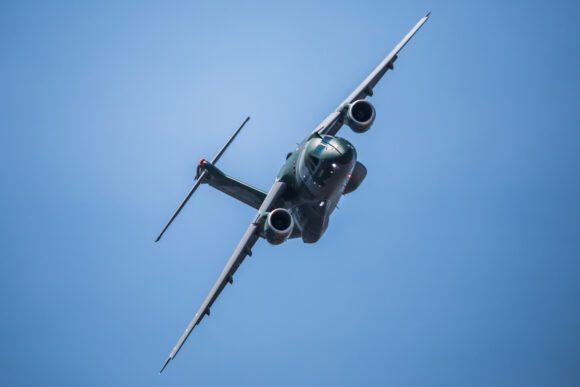 Fokker hopes that the Embraer C-390 Millennium transport aircraft is selected by the Dutch Royal Air Force, bringing valuable work to the company. (Embraer)
Now independent companies again, Fokker Techniek and Fokker Services Group see further growth options thanks to a partnership with Embraer. Roland van Dijk, CEO of Fokker Techniek, confirmed that the initiative has been coming from the Brazilian airframer. Fokker embraced it as it wishes to grow its presence in the market, which Van Dijk said can't be done without working with others. He referred to Embraer as a kind of 'lookalike' of Fokker, as both serve the regional aircraft market. The partnership is still early days and the three companies will discuss opportunities in the coming months how they can work together.
C-390 could become a key joint program
One area with great potential is defense, specifically around the Embraer C-390 Millennium transport aircraft. Van Dijk is hoping that the Dutch Royal Air Force selects the C-390 as the replacement of the aging Lockheed Hercules. A decision is not expected until 2023 but could bring Fokker the exclusive rights for conversion work and maintenance and support of the C-390 fleet.
Collaboration in the commercial aviation business is less clear. Engineering and program and logistic support are key elements that need further exploration. Fokker Services already offers component repair and limited modifications for the Embraer E1-fleet, but it is keen to expand this to the E2-family that is progressively entering service with KLM Cityhopper. It's certainly no disadvantage that Arjan Meijer, Embraer's President and CEO of Commercial Aviation, has his roots at KLM. As Managing Director of KLM Engineering in the UK between 2014 and 2016, he has deep knowledge of Fokker and Embraer that were operated by Cityhopper.
Working together on a hydrogen aircraft
A new area that Embraer and Fokker want to focus on is the development of hydrogen-powered aircraft. This is unknown territory for both companies but clearly something to be explored on their combined roadmap. Embraer's Vice President Marketing, Rodrigo Silva e Souza, told AirInsight earlier this year that hydrogen is part of the OEM's future strategy.
Its yet-to-be-launched turboprop will be designed with hydrogen in mind, although Embraer doesn't expect the disruptive fuel to become a significant player until 2040 at the earliest. Meijer told reporters that what makes Fokker attractive is its ability to perform complex maintenance and bring in vast engineering experience, something which will be handy when talking about a hydrogen airliner. If Embraer also has asked Fokker for a role on the turboprop program isn't known. 
As Embraer and Fokker explore closer ties, the MoU evolves in concrete projects is something that is up to Embraer and Fokker now. Expect some updates somewhere in 2022. "Whether it's the Defense market with our support for the C-390 Millennium transport aircraft or any type of Support or Development in Commercial market, we are confident that many exciting projects will arise over the coming years", said Menzo van der Beek, CEO of Fokker Services.
(main picture from left to fight: Jackson Schneider (Embraer President and CEO Defense & Security); Arjan Meijer (Embraer President and CEO Commercial Aviation); Menzo van der Beek (CEO Fokker Services); Roland van Dijk (CEO Fokker Techniek); Johann Bordais (Embraer President and CEO Services and Support). Standing: Steven Adriaansen (Mayor Woensdrecht); Ina Adema (governor Province of Noord Brabant).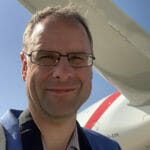 Active as a journalist since 1987, with a background in newspapers, magazines, and a regional news station, Richard has been covering commercial aviation on a freelance basis since late 2016.
Richard is contributing to AirInsight since December 2018. He also writes for Airliner World, Aviation News, Piloot & Vliegtuig, and Luchtvaartnieuws Magazine. Twitter: @rschuur_aero.