A bit like Dubai Airshow two years ago, this year's event has been rather subdued for Embraer. Except for the order for three E175 from Nigerian airline Overland Airways, the airframer announced no further news except for its latest market outlook. Still, CEO Commercial Aviation Arjan Meijer is happy with the outcome of the airshow when we sat down with him briefly. Embraer's Dubai Airshow still success even without big orders.
In fact, Meijer gave us just five minutes before he had to go to another customer meeting to ask some questions.
Meijer: "It's been the first international airshow in a very long time, so it has been extremely pleasant to be back in this region and have the opportunity to meet people, customers, and suppliers, bring and show the aircraft. It's an important region for Embraer. We had a great number of engagements with customers on-site, lots of visits to the airplanes (the E195-E2, Praetor, and KC-390 – RS)…"
AirInsight: …Important but also a difficult region for Embraer to penetrate into…
Meijer: "It's a region where of course there are flying a lot of widebodies but what we see globally is a focus on a new approach to the market, where regionalization, digitalization, and sustainability will play a big role. We believe the Middle East isn't immune to these trends. We believe, as we have seen in other crises, that smaller aircraft can help airlines to get out of the crisis more risk-averse and more profitable and the Middle East carriers are seeing that as well. So if you compare the regions to others, it is a different market but it has great potential for the E2s."
AirInsight: Of course, you hit the headlines recently with the Energia sustainability concepts and earlier with your plans for the new turboprop. Where they the top topics here as well?
Meijer: "They are different, right? The TP is a project we are really working on. We are talking to a product coming to the market, launching it in 2022 and bringing it to the market in 2027…"
AirInsight: But the customers want to know everything already yet?
Meijer: "Yes, we have a lot of customer engagement on the TP. There is a lot of interest in both the bigger TP 90-seater because it offers very compelling seat costs and has a very significant carbon dioxide improvement over the current products and especially over jet operations in that same segment.
The Energia project is a concept, they aren't products. It is much more about inviting the industry and customers for a dialogue. We have never been so bold in our future outlook. This is where Embraer is different. You might say it isn't a real product, but it was never intended to be. It is a direction the market is going and what we in our segment can do with new technology and what concepts we foresee. We would love to see from partners and suppliers how they can help us get a better product and how this could our customers' future network. There are no airlines flying around with big 20-30 seaters today, but in the future, we might see different modes of transport, people traveling with a completely different approach to sustainability. We want to look at all the options."
AirInsight: Here at Dubai Airshow, you announced that Embraer is also looking at the full freighter market. Maybe aircraft conversions, maybe even offering new freighters. But you seem not to be ready to launch new ones now?
Meijer: "We could do both in the long run. The reasonable short-term solution is conversions. Obviously, if you look at the cargo market, you look at a somewhat lower utilization which makes the asset value more important. Hence, you see more used aircraft going into this market. We believe the used market of Embraer E1s is very interesting. The vintage of the aircraft is at the right point in time that you could consider a converted aircraft and still get 10-15 years more out of the aircraft. They are perfectly capable of that. So the timing is right."
AirInsight: When did you realize that you wanted to offer that product?
Meijer: "We have looked at it for a long time, but the E-jets were a bit young. It was still expensive to do a conversion. We now believe that the aircraft is reaching an age that economically makes sense. Plus, we see a huge cargo up-tick with an e-commerce market that is ever emerging. So cargo operators are looking at ways to fly deeper into the veins of the network. That's where the size of an E-jet is just missing in the range. There is an ATR and then you go to narrowbodies, there is nothing in the middle."
AirInsight: But the payload of 14 tons of the projected Embraer freighter is not too small?
Meijer: "No, we don't believe so. With e-commerce, it is more about volume than weight and the volume of an E-jet is very attractive in that respect. We believe there is a good opportunity in the market, confirmed by the fact that some airlines already fly some E-jets in temporary cargo operations. This is a way to solidify that solution."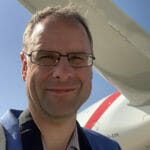 Active as a journalist since 1987, with a background in newspapers, magazines, and a regional news station, Richard has been covering commercial aviation on a freelance basis since late 2016.
Richard is contributing to AirInsight since December 2018. He also writes for Airliner World, Aviation News, Piloot & Vliegtuig, and Luchtvaartnieuws Magazine. Twitter: @rschuur_aero.