UPDATE – Boeing has come out as the 'winner' of the 2022 Farnborough Airshow, beating Airbus fair and square on orders by 176 versus 85 with a last day order from Qatar Airways. That the show would end rather subdued wasn't expected in the weeks and days leading up to the event when news agencies pushed headlines of potential big deals that were to be signed. The reality has been that, in the end, deals weren't ready in time to be signed, as shown in our order tracker. Farnborough 2022: a rather subdued airshow.
As commented elsewhere on AirInsight, quite a few were surprised by the lack of buzz coming from Airbus. The airframers got just two orders: the exercise of 12 A220-300 options from Delta that was only announced in a press release from the airline, and the confirmation of an order for 56 A320neo family aircraft by easyJet. It even made an Airbus spokesperson think for a while if the latter was a Farnborough order, as it was announced as a 'conditional arrangement' on June 21 but finalized on Thursday during easyJet's Annual General Meeting.
The easyJet deal has been the only occasion in which we say Chief Commercial Officer Christian Scherer in the auditorium to make an announcement. Where had he been and what happened to the deals that supposedly were to come to this show, AirInsight asked him. "We don't need to make a lot of noise, we can do business quietly", Scherer said. "Your suggestion is: where are the Airbus announcements? I want to remind you that we cleared the 500 orders so far this year. And this was not a quiet airshow. This is a public room. I can tell you that in private rooms, it has been quite hectic."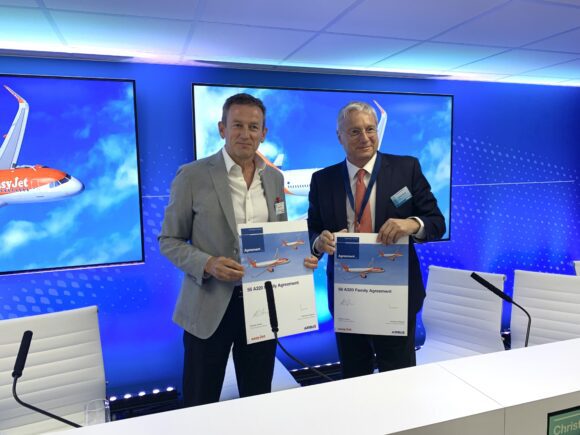 The only commercial announcement with Airbus CCO Christian Scherer (right): the confirmation of the easyJet order with the airline's CFO, Kenton Jarvis. (Richard Schuurman)
Scherer said he had been in 'hundreds' of meetings with airlines during the week, mostly speed dates, others serious talks. But as a spokesperson added later, orders sometimes need more time and when they aren't ready, there is no point to tell the world. That explained the quiet airshow for Airbus, with Scherer and CEO Guillaume Faury returning home on Thursday night tired but probably satisfied with what is to come in the future. To the outside world, however, Farnborough 2022 was the weakest airshow for Airbus since Paris 2017, when Boeing successfully launched the MAX 10.
On Thursday, Airbus issued a press release to announce that LATAM Airlines had ordered seventeen A321neo's, including for the first time the A321XLR. The airline will get thirteen. When added to the total numbers announced during the airshow week, Airbus had twelve (Delta) plus 56 (easyJet) and seventeen ( LATAM) sales, or 85 in total.
MAX got the biggest orders
Exactly that type was back in the headlines with the biggest order during the week, that of Delta Airlines for 100 firm plus 30 options. As Vice President of Commercial Sales and Marketing, Ihssane Mounir, said on Monday, the Delta order is a "huge testament to the value of the MAX 10 and the MAX." Especially the uncertainties the type suffers, with certification to be delayed until 2023 and a cloud of uncertainties over the question of whether the MAX 10 needs a redesign of its cockpit systems.

On Thursday, media had to wait for an hour for Qatar Airways CEO Akbar Al Baker to enter the briefing room to confirm an order for 25 MAX 10s plus 25 options. Al Baker told AirInsight a few weeks ago that the MoU signed in January would be confirmed. He was right then, although Al Baker told media earlier this week that the MoU had lapsed. Neither Al Baker nor Boeing was unwilling to answer any questions on the MAX order and the Qatar boss was out again before we knew. "I don't want to comment in the history. It's suffice to say that we signed a firm agreement. And a firm agreement is a firm contract", was all what Mounir wanted to say.

Asked about the signifcance of the MAX 10 orders this week, Mounir said: "When the customers had bet, they bet on the value of the family of aircraft of the -7, the -8, the -8200, the -9, and the -10. These orders are reinforcing the value of the family. It's a reaffirmation of the product."
More MAX orders
The MAX won more orders, with 30 firm orders for the MAX 8-200 plus another 36 options for either the -8200 or -8 from 777 Partners. The US investor firm, which has a stake in Canada's Flair Airlines and Australian start-up Bonza, has now placed five orders for 134 MAX. Another follow-on order came from lessor Aviation Capital Group for 12 MAX 8s, bringing ACG's order book for the type to 34.
Announced in Farnborough but actually agreed at an earlier stage were the orders from ANA and VietJet Thailand. ANA said already on July 11 that it would confirm an order for twenty MAX 8s plus ten options while converting two 777-9s into the 777-8F freighters.

The VietJet MAX order for 100 aircraft was first announced back in 2016, increased to 200 in 2019 but still awaited confirmation. This was done on Day 2 of the airshow, but Boeing doesn't include the two orders in its Farnborough tally. Mounir stressed the importance of this reaffirmation of the MAX orders, especially after they had been placed on hold after the grounding of the type in 2019. "We had to reaffirm the trust of our customers, so these orders are a confirmation of their trust. That's what happened with VietJet. They had an opportunity to walk away but opted not to do so." Mounir compared rebuilding the trust to "a journey."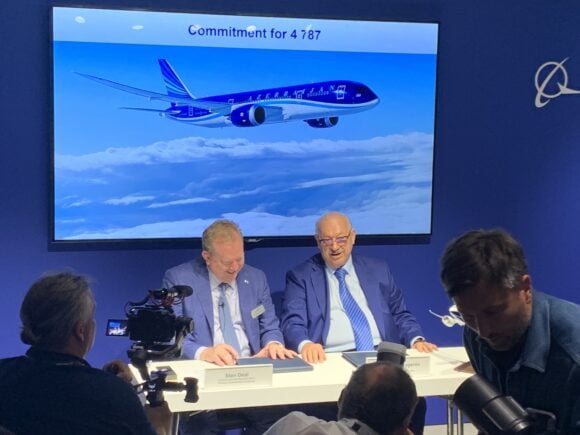 Happy faces as Stan Deal and Azerbaijan Airlines CEO Jahangir Asgarov announce an MoU for four 787-8s. (Richard Schuurman)
On the widebody front, Boeing got orders from lessor AerCap for five 787-9s. The airframer was unable to confirm whether these are newly-built aircraft of frames coming from the inventory of Dreamliners, which included 115 aircraft by the end of March.
On Wednesday, Azerbaijan Airlines signed an MoU for four 787-8s. Including two owned and four more Dreamliners that will likely be leased, the carrier will have ten of them by 2030.

A last-minute call to Boeing came on Wednesday night, said Mounir, when Cargolux informed him that they wish to purchase the 777-8F. Numbers and details will follow at a later stage.

Including new aircraft orders only, Boeing went home with sales for 176 aircraft. "The airshow week is just one of the year and is the culmination of all the work done all year", said Mounir, who added it was very humbling and gratifying to end the show as successful as Boeing did. "Our partners put their trust in us and in our products. I am very excited by the prospects the industry is going: things are firming up from a recovery standpoint and this week has been a testimony of that." 
Reasonable airshow for Embraer
Embraer had a reasonable airshow, with 28 orders. It announced a follow-on order for twenty E915-E2s from Porter Airlines for delivery from 2024. With the first aircraft about to join the Canadian airline, the new batch will help it grow its network by 2030. The carrier now has fifty firm orders plus fifty options. Alaska Airlines also placed a follow-on order, for eight E175-E1 plus thirteen options. They will be operated by Horizon Air and delivered from Q2 2023.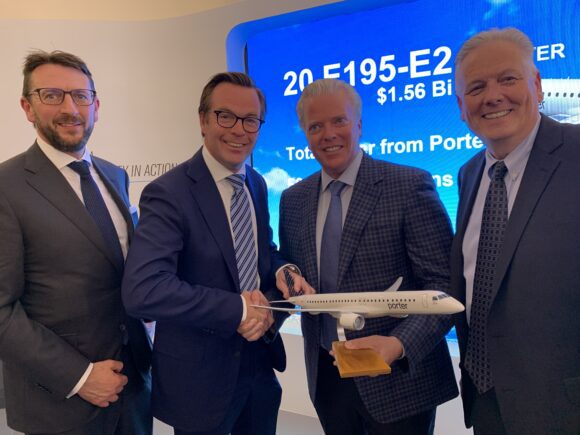 Embraer's Martyn Holmes and Arjan Meijer together with top management of Porter after the announcement of a follow-on order for twenty E195-E2. (Richard Schuurman)
The most significant news from Embraer was the announcement that the new turboprop aircraft has already attracted Letters of Intent for over 250 aircraft. President and CEO Arjan Meijer was most pleased about the situation, especially as airlines in key markets like the US and Asia are interested in both the 70 and 90-seater versions of the TP.
Embraer's spin-off Eve Urban Mobility announced an LoI for 150 eVTOLs with BAE Systems for potential future applications in defense and security roles. BAE has been working with Eve since December last year. On the day before the airshow, Eve unveiled a full-scale mock-up of the cabin of the 5-seater.
ATR gets firm orders and LoIs
ATR scored twelve firm orders: one 42-600 from Japan's ORC, one 72-600 in a follow-on order from Afrijet, and ten 72-600s from lessor Abelo. The Heads of Agreement also includes ten 42-600S aircraft that were ordered in 2019 by Elix Aviation, the company that later became Abelo. The latter aircraft were already in the book then. The turboprop maker also announced a Letter of Intent for 36 42-600s, 42-600S, and 72-600s from Japanese start-up Feel Air Holding, which only is confirmed later in 2023.
Engine makers benefitted from some of the announcements, with CFM getting an order from Delta for sixty LEAP-1Bs for the 100 firm plus thirty options for the MAX 10. Pratt & Whitney secured orders from Air Lease Corporation (ALC) for eighty Airbus A320neo family aircraft plus 76 firm and ten options for the A220. The Delta order for the twelve A220-300s was also added to the backlog, as were the twenty Embraer E195-E2s for Porter. This brings orders and commitments for the Geared Turbofan to over 1.000 this year.
Hottest show for years
Treated to big numbers at earlier airshows, Farnborough 2022 was different then. It might be that airshows no longer are the exclusive focal point for commercial announcements, as the situation at Airbus seems to indicate. Or it could be a hint that a slow-down of orders is on its way, although potential orders for hundreds of aircraft from Air India, Jet Airways, Malaysia Airlines, LOT Polish Airlines, ALC, or others seem to contradict.
The scorching heat on Monday and Tuesday, when temperatures touched or went above 40 Celsius, made Farnborough a boiling pot. Maybe it was a hint from Mother Earth to tell the industry to hurry up with all the sustainability initiatives that were presented throughout the week.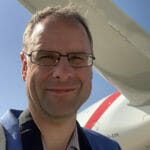 Active as a journalist since 1987, with a background in newspapers, magazines, and a regional news station, Richard has been covering commercial aviation on a freelance basis since late 2016.
Richard is contributing to AirInsight since December 2018. He also writes for Airliner World, Aviation News, Piloot & Vliegtuig, and Luchtvaartnieuws Magazine. Twitter: @rschuur_aero.