UPDATE – All Nippon Airways (ANA) and Japan Airlines (JAL) have committed to becoming carbon neutral in 2050, in large part thanks to the use of sustainable aviation fuels (SAFs). But their joint statement on reaching this goal demonstrates that it could be impossible to achieve this if SAF production isn't drastically increased. And not just in Japan. Japanese airlines worried about lagging SAF production.
In their 2030 ambition statement presented on October 8, ANA and JAL say that they aim to increase the use of SAFs in the global aviation industry to ten percent of total volume in 2030. "To achieve net-zero CO2 emissions in 2050, it is necessary to greatly accelerate the development, production, distribution, and use of SAF through cooperation among the industries involved in aviation transportation."
Both airlines have been testing SAFs over the past decade. For example, in 2017, JAL sourced sustainable aviation fuel in the US for a flight from Chicago to Tokyo Narita. Under the program of the Japanese New Energy and Industrial Technology Development Organization (NEDO), which has poured millions into the development of SAFs and hydrogen, ANA and JAL flew domestic services on SAFs. On June 17, ANA operated a Boeing 787-8 between Tokyo Haneda and Osaka Itami using SAFs based on microalgae while JAL flew an Airbus A350-900 from Haneda to Sapporo using two different blends: one based on microalgae, the other on wood chips.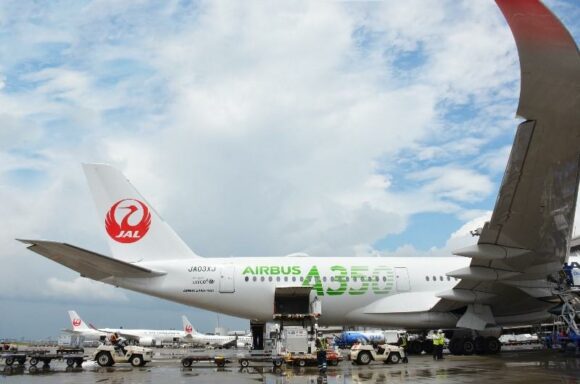 Japan Airlines demonstrated two different SAFs on a flight to Sapporo on June 17. (Japan Airlines)
The JAL flight used only 9.1 percent of SAFs. To really become net zero, 2.500 billion liters of SAFs would be needed in 2050 just for domestic and international flights in Japan. While the two airlines acknowledge that the Japanese government is doing its best to support the production of SAFs through NEDO and the Green Innovation Fund, they are worried that there won't be enough SAF available in time. "Domestic SAF production has not yet become commercialized. Currently, it is necessary to make use of existing supply chains that are dependent on imported SAFs, which are more costly."
They continue: "After domestic SAF is expected to become commercially available in 2030, it will be important to implement policies that increase self-sufficiency from an energy security policy perspective, instead of simply relying on imports from Europe, the United States, and China. If Japan's airports can achieve a stable supply of domestically produced SAF at internationally competitive prices, the international airports in Japan will become more competitive which will lead to the establishment of a stable international aviation network based in Japan."
And it isn't just SAF production in Japan that ANA and JAL are worried about: "The airlines share a sense of urgency with the key stakeholders involved in air transportation and will work diligently to resolve various issues related to the procurement of raw materials, manufacturing, quality control, distribution and use of domestic SAF." The current production level of SAF is just 0.03 percent of demand, All Nippon and Japan Airlines said. Earlier this year, IATA mentioned 0.1 percent as the amount of SAFs used for commercial flights.
At last week's IATA Annual General Meeting in Boston, the airlines adopted a resolution that sets the target of reaching net-zero carbon in 2050 instead of only fifty percent as originally outlined in 2009. The key to meeting this target is SAFs. IATA wants governments to incentivize SAF production and mandate the use of sustainable fuels. "With the appropriate government policy support, SAF production is expected to reach 7.9 billion liters in 2030", says IATA. The target for 2030 is 23 billion liters, for 2035 91 billion, for 2040 229 billion, for 2045 346 billion, and for 2050 449 billion liters or 65 percent of the total fuel requirement.
Staggering production targets are realistic, thinks IATA
These numbers are staggering given the levels that are available now, but IATA Director-General Willie Walsh thinks they are realistic: "Absolutely, I have no hesitation in saying it is. People have often argued that it needed the airline industry to send a strong signal to fuel manufacturers that we were prepared to use sustainable fuels. If a strong signal was required, they will certainly have got it now. The demand for this product is going to grow and grow and there will be no hesitation on the part of airlines. It is not a case that airlines won't buy, it is a case and I believe the supply is coming into the industry. And there is a strong message from the industry that we want sustainable fuels so that we can progress our commitment to net zero."
In the past months, various producers in the US announced various initiatives to ramp up SAF production. On September 9, the Biden Administration announced that SAF production will be increased to three billion gallons in 2030. Producers have a plan for $4.3 billion in investments. The plan also includes a tax credit on regulars fuels to incentivize the production of SAFs. In Europe, Shell said on September 20 that it will ramp up SAF production from cooking oil, waste, and animal fats to two million tons by 2025.
Japan's NEDO recently selected Mitsubishi Power, Toyo Engineering, and Itochu Group to develop a SAF from the gasification of woody biomass through the Fischer-Tropsch methodology, the same that JAL used on June 17. The four-year program includes a two-year feasibility studio followed by the preparation for a demonstration plant.
The four to eight times higher prices of SAFs compared to regular kerosene have blocked a breakthrough. However, if oil prices remain at the current high levels and SAF production increases, there will be a cross-over point where sustainable fuels will become affordable.
Industry pushes for more SAFs sooner
In a joint statement released on October 14, Rolls-Royce, Airbus, and Shell called on the upcoming United Nations COP26 climate summit in Glasgow to set further ambitions and targets on collaboration on the production of SAFs. The three parties said that the target of reaching ten percent SAFs by 2030 can be reached much sooner. Rolls-Royce will have all its Trent engines 100 percent SAF-compatible in 2023, Airbus has certified all its types for the maximum allowed a blend of 50 percent, and Shell has committed to producing two million liters of SAF per year from 2024.
"However, we will only create the focus and momentum required to achieve this if we ratchet our collective ambition beyond the current target of achieving ten percent SAF usage by 2030. We need partners who share our vision for the use of SAFs as a solution for reducing emissions on long-haul flight, to help all of us successfully transition to a net-zero carbon future", said Rolls-Royce CEO, Warren East.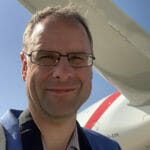 Active as a journalist since 1987, with a background in newspapers, magazines, and a regional news station, Richard has been covering commercial aviation on a freelance basis since late 2016.
Richard is contributing to AirInsight since December 2018. He also writes for Airliner World, Aviation News, Piloot & Vliegtuig, and Luchtvaartnieuws Magazine. Twitter: @rschuur_aero.