Major aircraft propulsion and equipment maker Safran recorded a solid 2019, with a net income up 26.4 percent to EUR 3.820 billion, it reported on February 27. Revenues were up 17.1 percent to EUR 26.640 billion. All segments (propulsion, equipment, and interiors) contributed positively.
Aerospace Propulsion earned EUR 12.045 billion in revenues, up 13.9 percent, with net income 22.4 percent higher at EUR 2.485 billion. The French partner with General Electric in CFM International produced 1.736 LEAP-engines compared to 1.118 the previous year.
Safran kept producing LEAP-1Bs for the Boeing MAX even after the type was grounded in March, but has now adapted the rate as the production of the MAX is still suspended. It will build 10 -1Bs a week this year, resulting in around 1.400 LEAPs this year. Safran and GE have reached an agreement with Boeing that covers payments for all engines delivered including FY21.
Most LEAPS produced will be -1As for Airbus A320neo-family aircraft, while the -1C for the Comac C919 is only used on the Chinese airframer's test aircraft.
The trusty CFM56 saw only 391 produced compared to 1.044 in 2018, but cost Safran EUR 98 million in transition costs. Safran has seen an 9.9 percent increase in after-market activities for both the CFM56 and GE's widebody platforms.
Aircraft Equipment, Defense and Aerosystems saw 16.5 percent higher revenues and a net operating income 21.9 percent higher at EUR EUR 1.209 billion. A major driver in this were more deliveries of A320neo and A330neo nacelles.
Safran Interiors (previously Zodiac) recorded 32.3 percent higher revenues at EUR 3.321 billion or a wopping 132.1 percent increase in net income at 188 million. This demonstrates that the critical part of the integration since March 2018 has been completed. Safran is most happy it has found more customers for seats and cabin equipment, a reflection of restored confidence in its products after quality issues haunted the OEM a couple of years ago.
Following the MAX grounding, Safran has had to review its near-term outlook. Adjusted revenues are expected to be 0 to 5 percent lower compared to 2019 but the adjusted recurring operating income should be 5 percent higher. Safran too is worried about Covid-19 and expects high single digit growth in after market sales as long as the effect of the virus doesn't extend beyond Q1.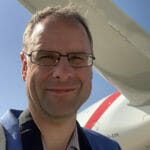 Active as a journalist since 1987, with a background in newspapers, magazines, and a regional news station, Richard has been covering commercial aviation on a freelance basis since late 2016.
Richard is contributing to AirInsight since December 2018. He also writes for Airliner World, Aviation News, Piloot & Vliegtuig, and Luchtvaartnieuws Magazine. Twitter: @rschuur_aero.