Engine Alliance, LLC, a JV between Pratt & Whitney and GE Aerospace, produced the GP7000 for the A380.  Today, Engine Alliance announced that MTU Maintenance Lease Services B.V. ("MLS") is an exclusive provider of the management of the EA-owned fleet of GP7000 lease pool engines.
Fleet management service will be executed from the MLS head office in Amsterdam, the Netherlands. Currently, MLS is working to onboard the engines into the fleet management program, which is efficiently managed through MTU's proprietary fleet management software platform, Cortex Lease.  
Based on fleet data from ch-Aviation, there are currently 146 active A380s.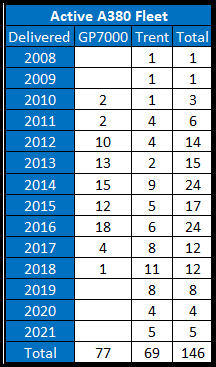 Of the active fleet, 52.7% are powered by GP7000 engines.  As the delivery years indicate, these GP deliveries were the program's heyday.  These 77 account for 308 engines, excluding spares.
It is interesting to see the status of the A380 fleet. The GP turned out to be the most popular engine for this aircraft.  Engine selection for the last few delivered to Emirates came with a story. This issue was covered earlier by us, too.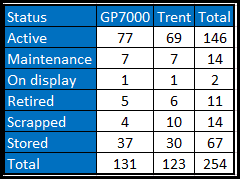 With A380s returning to service, MLS should have a flow of engine business. But it is a limited future, at best.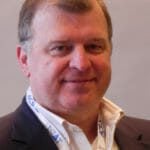 Co-Founder AirInsight. My previous life includes stints at Shell South Africa, CIC Research, and PA Consulting. Got bitten by the aviation bug and ended up an Avgeek. Then the data bug got me, making me a curious Avgeek seeking data-driven logic. Also, I appreciate conversations with smart people from whom I learn so much. Summary: I am very fortunate to work with and converse with great people.