When Emirates' newest and 118th Airbus A380 is set to enter service on January 4 flying to London Heathrow, it's a small but nevertheless important step for the airline from Dubai. It will be the first time passengers can enjoy the new Premium Economy class. Whereas Emirates has been a frontrunner and game-changer before as far as its cabin products are concerned, this time the team of Sir Tim Clark has been late with offering Premium Economy.
Checking the Seatguru database, there are already 57 airlines offering Premium Economy, which comes with a wider seat and – most importantly – extra legroom. The list includes familiar names like American, Delta, ANA, British Airways, Lufthansa, Air France, Qantas, Singapore Airlines, Virgin Australia, and Virgin Atlantic, but also less obvious airlines like Ukraine International, Skylanes, and French bee.
So why Emirates is so late and is offering Premium Economy on only a very limited number of A380s, just when long-haul travel has been reduced to marginal numbers because of the Covid-crisis? You can call that bad timing. "Our Premium Economy product was carefully developed in keeping with Emirates' brand positioning as a full-service airline of the highest quality", Tim Clark says in the news release on December 29. Indeed, it has taken Emirates a couple of years to study the opposition and develop the product. Remember that until early 2018, the airline had been busy for four years with Mercedes Benz in developing the fully enclosed First Class suites that were unveiled at the Dubai Airshow on the Boeing 777-300ER. That has taken a lot of time and effort.
With Clark's personal involvement and attention to detail, it's easy to understand that he was keen to come it with a Premium Economy seat that would beat the competition once again. "Our First, Business and Economy experiences reset industry standards when they were introduced, and we are confident that our Premium Economy will also make its mark as a distinct premium offering."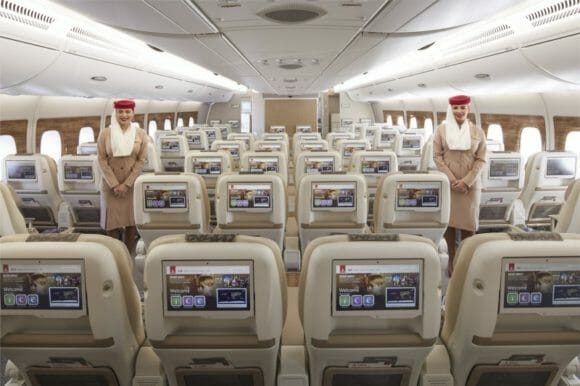 On the Emirates Airbus A380, Premium Economy has 56 seats at the front of the main deck. (Emirates)
Bear in mind too that Covid has delayed the introduction of Premium Economy. Originally, Emirates intended to take delivery of five or six A380's in 2020 and the remaining aircraft in 2021. After long-haul traffic came to a standstill at the end of March and all A380's were grounded until June, the airline renegotiated the delivery schedule with Airbus. Instead of two or three aircraft with Premium Economy, Emirates has taken delivery of just one on December 23 (A6-EVN), with the final five scheduled for delivery in 2021 and even 2022.
With so few aircraft available with PE, the class initially will be offered to loyal Emirates customers as an upgrade from Economy.  "Until we have a viable number of seats in our inventory to bring to market, we plan to offer the Emirates Premium Economy experience as a complimentary upgrade to valued customers. We'll also deploy our newest A380 aircraft on various routes so that our customers can experience our latest offering in all classes," says Clark.
Getting to a 'viable number of seats' depends on how quickly the airline will upgrade the cabin on older A380's, which also includes revised First Class suites (although not the ones from the 777, as they don't fit on the A380 upper deck), restyled Shower Spa, and new seats in Business and Economy class. Some 777-300ER's will also get PE seats, as will be the first number of 777-9s that are set to be delivered in 2023.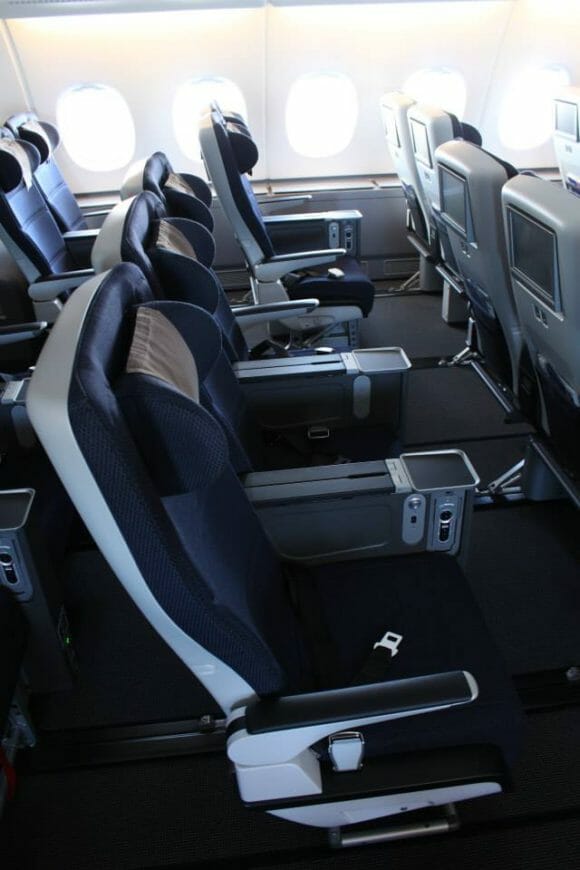 This is Premium Economy/World Traveller Plus on the British Airways A380, positioned on the upper deck. Seat width is 18.5 inches, pitch 38 inches. There are 55 seats. (Richard Schuurman)
How does the Emirates product compare?
So will Emirates' Premium Economy raise the bar again? Until we have been able to see and test it we have the statistics and pictures to work with. As far as seat width is concerned, the 56 Recaro seats offer 19.5 inches. That puts Emirates within the airlines with widest Premium Economy seats and on par with Air Canada (Boeing 787), Cathay Pacific (777), EVA Air (777), LOT Polish Airlines (787), Philippine Airlines (Airbus A330), Qantas (A380), and Singapore Airlines (777, A380, and A350 ULR).
Offering wider seats than Emirates are Aeroflot (20 inches, Boeing 777), Air Canada (20in, 777), Air China (20 in, A350), Air New Zealand (20in, 777-300ER), Air Tahiti Nui (20.4in, 787), Cathay Pacific (20in, A350-1000), China Airlines (20in, A350), LEVEL (20in, A330), Qantas (20.5in, 787), TUI UK (20.5in, 767), with Virgin Atlantic even offering 21 inches on its 787-9s. If you like space, don't go for the Philippine Airlines A330 with a layout of just 16 inches.
Seat pitch is 40 inches on the Emirates A380 and again that fares well against the competition, with most airlines offering 37-38 inches. Forty inches is offered by Air France (A330, 787), Cathay Pacific (A350-1000), while more space is available with Air New Zealand (41in, 777, 787), Japan Airlines (42in, 777, 787), Qantas (42in on some A380s), while Virgin Australia had 41 inches on its 777s that are unlikely to be operated again.
Another detail: the Emirates seat reclines 8 inches. Most airlines offer reclining seats, but quite a few still have standard seats.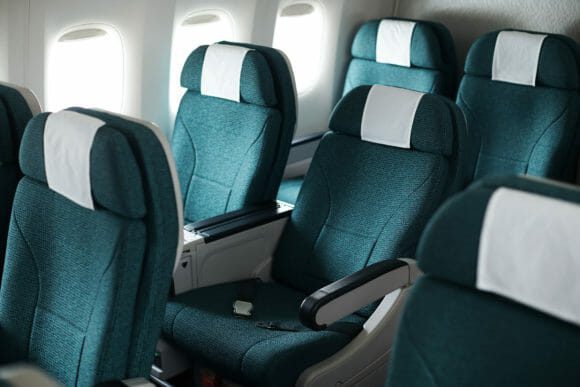 Cathay Pacific offers Premium seats at 19.5 inches wide on the Boeing 777-300ER and 38 inches of pitch (picture). The Airbus A350-1000 has seats 20 inches wide and a 40 inches pitch. (Cathay Pacific)  
So yes, at first sight, the timing of introducing the new product might look awkward. Emirates Premium Economy will be available to only a happy few until older A380s and 777s have been upgraded. That makes it a huge (if unspecified) investment for the airline, just as it needs to keep costs under control. And it remains to be seen how much Premium Economy will eat into the other products: will Business Class suffer as more passengers select the cheaper Premium seat, or will bookings benefit from Economy passengers wishing to pay extra for additional space?
With various experts and even IATA saying Business travel is set to change permanently after the Covid-crisis, Emirates is taking on a huge gamble by entering the Premium Economy market now. It will take at least a few years before the airline will get a return on this investment. By that time, Sir Tim Clark will surely have settled into retirement, so Premium Economy most likely can be regarded as his final contribution to the Emirates cabin product line.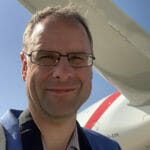 Active as a journalist since 1987, with a background in newspapers, magazines, and a regional news station, Richard has been covering commercial aviation on a freelance basis since late 2016.
Richard is contributing to AirInsight since December 2018. He also writes for Airliner World, Aviation News, Piloot & Vliegtuig, and Luchtvaartnieuws Magazine. Twitter: @rschuur_aero.