It was a rumor for some months, but Airbus has finally confirmed that it will use its A380 test aircraft MSN001 as a demonstrator for its ZEROe hydrogen program. The aircraft will be converted to get a General Electric Passport engine on the port side of the fuselage and start flight testing by the end of 2026 in a joint project with CFM, it was announced on February 22. Airbus confirms the A380 as ZEROe hydrogen demonstrator.
Airbus unveiled ZEROe in September 2020 with the presentation of three hydrogen-powered airliners for 100 and 200 passengers, including a turboprop, a turbofan-powered aircraft, and a blended wing, of which another version was added later. Then-Chief Technical Officer Grazia Vittadini (now with Rolls-Royce) said that Airbus would do its research and development until 2025, before starting flight test on a demonstrator. Around 2027, it would then make technology choices and launch the first airliner program, targeting entry into service in or around 2035.
Current CTO Sabine Klauke said during an online media event that this schedule is still up to date. Airbus will still develop the various 'technological bricks' in the next few years, together with its partners like General Electric, Safran/CFM, Air Liquide, and its own Zero-Emission Development Centers in Bremen (Germany), Nantes (France), and Madrid (Spain). Flight testing will start by the end of 2026, which perfectly fits the original schedule for a decision by the late-20s and an entry into service around 2035.
As part of the technology bricks, GE and Safran will first start ground tests with the GE Passport engine. The 18.000-20.000 pounds of thrust engine has been developed since 2010 for the Bombardier Global 7500 business jet and has been in service since 2018. As Mohamed Ali, GE's Vice President and General Manager of the Engineering Division explained, CFM will start ground tests with a modified engine using conventional Jet-A fuel to establish basic data, before transiting to hydrogen.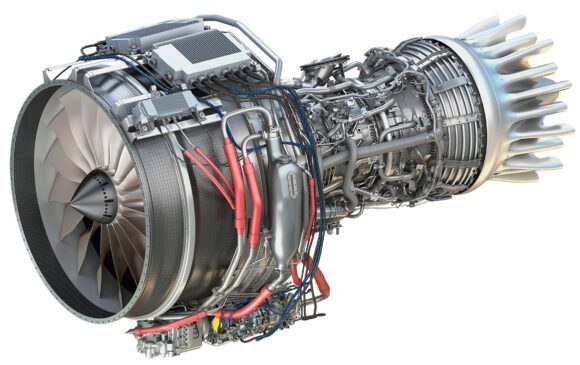 The GE Passport will be used as a Guinea pig for the hydrogen project. (GE Aviation)
The super-cold (-253 Celsius) liquid fuel will be gasified and injected directly into the combustion chamber. Numerous tests will establish the characteristics of hydrogen, which burns at much-higher temperatures compared to kerosene, burns faster, and can cause flashbacks. GE will look into its vast array of metals, coatings, and ceramics to see what material is best suited to withstand the temperatures. "What we learn from this program will inform us about potential future engine developments", said Ali. "Is hydrogen harder? Yes. Is it doable? Absolutely! But we are building on our huge experience."
MSN001 to be extensively modified
In the run-up to 2026 and already this year, Airbus will start extensive modifications on MSN001, the first A380 that made its first flight in 2005 and has been kept on for numerous testing programs, including that of the Rolls-Royce Trent XWB-engines and recently sustainable aviation fuels. The conversion into a hydrogen platform will be its most extensive ever. For one, the aircraft will get a dedicated structure on top of the aft upper deck, on which the Passport engine will be mounted on the port side.
Klauke said that this position has been chosen on purpose: "Actually, the position is here to really well measure as well the atmosphere as the overall system. We have very good integration with the tanks, the system, and the engine, but we also want to measure everything associated with the atmosphere." This includes emissions and contrail formation of the hydrogen engine at different engines, which should not interfere with those from the conventional engines under the wings.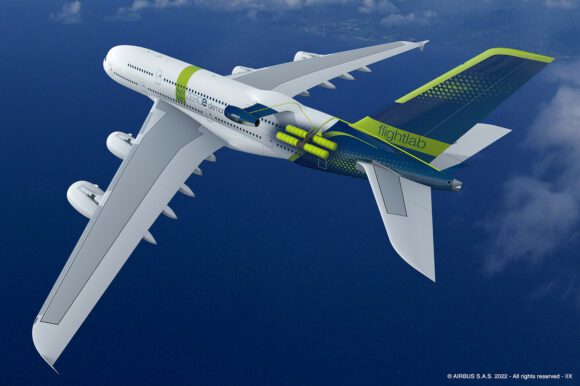 Animated picture of the A380, showing the Passport engine and the four liquid hydrogen tanks on the main deck. (Airbus)
Although the Passport has a by-pass ratio (fan : core) of just 5.6:1, GE's Mohamed Ali doesn't see that as an issue when it comes to studying emissions, notably nitrogen oxides and three times more water. "One of the reasons we selected Passport is that it is quite representative of what needs to happen. Passport is quite suited, particularly in the design and in the core, which actually affects the whole combustion. We can give us insights on which we can build for the future." The difference with the CFM LEAP would be small from a testing point of view, but is much bigger and heavier than would have required more structural modifications on the A380, added CFM President and CEO Gaël Meheust.
Four hydrogen tanks on the main deck
Except for the engine installation, the A380 testbed will require further changes. Aft on the main deck, there will be four hydrogen tanks with a combined capacity of 400 kilograms. For safety reasons, they will be inside dedicated capsules. The tanks are currently being designed in Bremen and Nantes. The tanks have taken a lot of effort, ZEROe Vice President Glenn Llewellyn told AirInsight last September. The quantity of LH2 is sufficient for the tests that are planned, said Klauke. More modifications will be made to the cockpit, with dedicated controls and displays for the Passport engine.
A completely new fuel delivery system also needs to be designed, including new fuel pumps. A newly designed heat exchanger will convert the liquid LH2 into gas that can withstand the highest temperature differences and pressures, explained Michel Brioude, CTO at Safran Aircraft Engine.
It is too early to say how many test flights will be needed before engineers are satisfied and have adequate data, but it will be a key technology brick before Airbus will determine what the actual hydrogen airliner will look like. Shapes and size will come later, as will be the testing of fuel cells that produce electricity out of hydrogen and oxygen. GE and Safran will use the lessons learned in their RISE technology program, which they launched in June 2021. "All our teams are dedicated to that and for the next two decades, it will be their top priority", said Brioude.
Airbus, GE nor Safran were willing to disclose how much they invest in the program. "It is immense work that is needed, but it will be part of our overall R&D plans", said Sabine Klauke. Airbus said last week that this budget will increase to some €2.9 billion this year. Meheust said the funding will come via its regular R&D spending, but it is hoped that the program will benefit from various government projects.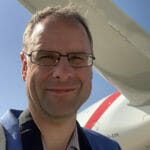 Active as a journalist since 1987, with a background in newspapers, magazines, and a regional news station, Richard has been covering commercial aviation on a freelance basis since late 2016.
Richard is contributing to AirInsight since December 2018. He also writes for Airliner World, Aviation News, Piloot & Vliegtuig, and Luchtvaartnieuws Magazine. Twitter: @rschuur_aero.