eVTOL commitments - bubble or not?
The past year has seen a plethora of announcements from the handful of eVTOL OEMs.  With these announcements one has to ask, is there a bubble? There are some big players on the OEM side of the business – Airbus, Bell, and Embraer among them.  Boeing is involved indirectly through an investment in Wisk.

The involvement of these firms provides credibility to the eVTOL concept.  This credibility is critical because established aerospace OEMs know the certification process.  Certification is only going to become stricter.  eVTOL projects may only be carrying a handful of people but will almost certainly be subject to intense testing.  Especially given the nature of their use over cityscapes.  For those OEMs new to the business, a steep slope looms. 
One way to reduce the risks facing these new OEMs is to bring in "names".  One of the most effective at this has been Lilium, whose Board has a few big names.  Archer, another new OEM, has brought in United Airlines as a partner as well as a customer.  Vertical Aerospace, another new OEM, has Avolon as a customer. Avolon has almost placed all its initial orders (450/500) with big airline names like AirAsia, GOL, and Japan Airlines. Dómhnal Slattery, Avolon's boss, is now Chair at Vertical.

It should be no surprise that the leading OEMs are those with established commercial aerospace partnerships, whether people or customers.  An entirely different approach is happening at Joby.  Their business model is not to sell equipment.  They plan to operate eVTOLs and vertically integrate the business. This OEM got USAF airworthiness approval in 2020 and has a deal with Uber.

We reviewed the industry's deals from 2020.  Here's what we found. In terms of "orders", which are perhaps more accurately described as commitments, Embraer's EVE is way ahead.  The numbers don't tell the full story.  Several of these firms have deals and agreements with established industry names.  For example, Japan Airlines has publicly expressed interest in Bell's program and that at Volocopter.  Clearly, these arrangements work for both parties.  The airline benefits from two streams of learning while the OEMs get to talk about a big brand's interest.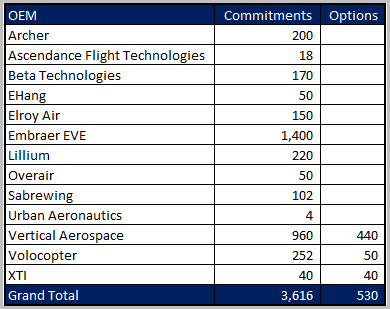 If we sort the data into customers, we get the following. The blank customer row is an unannounced customer.  We know from the announcement that the customer is US-based.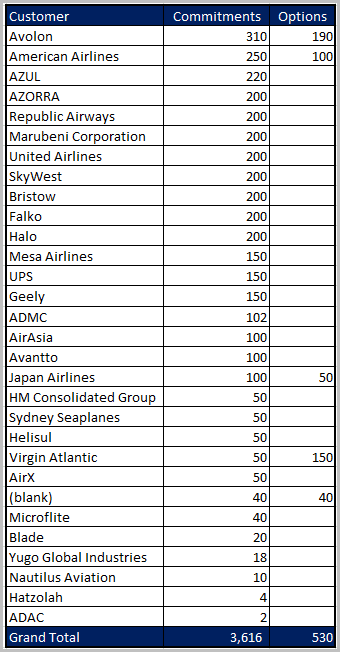 This industry breaks news regularly, which means these tables will be quickly outdated. The data tabulated starts in January 2020 and in about two years we have over 4,000 deals announced.  That is a remarkable acceleration and a clear sign that this segment of aviation is to be taken seriously.  Even if the industry sees consolidation as it matures we expect deals to continue growing.  All the side agreements will mature as well, i.e. Wideroe and Embraer.  These will likely lead to more orders.
Is there a bubble?  Yes, most probably.  Even if it pops, the impact might not be industry-wide.  Established OEMs will weather bursting bubbles.  They've been here before.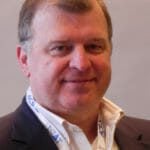 Co-Founder AirInsight. My previous life includes stints at Shell South Africa, CIC Research, and PA Consulting. Got bitten by the aviation bug and ended up an Avgeek. Then the data bug got me, making me a curious Avgeek seeking data-driven logic. Also, I appreciate conversations with smart people from whom I learn so much. Summary: I am very fortunate to work with and converse with great people.