We have been tracking demand for aircraft connectivity for some time.  There are several news stories that further underscore the point that demand for connectivity seems to have no upper limit.
Icelandair will equip its 737 MAX fleet with ViaSat connectivity. The system will connect aircraft to the ViaSat-2 Ka-band satellite network over North America and the Atlantic, switching to ViaSat and Eutelsat's Ka-band KA-SAT network over Europe.
Gogo business aviation unveiled a suite of smart cabin systems, SCS Elite and SCS Media, which are a highly integrated cabin, IFE and voice solutions that can be personalized to fit the specific needs of passengers on board a given flight.
Bombardier announced it is offering Ka-band technology on new Challenger 650 aircraft. The Ka-band high-speed internet system, the industry's fastest in-flight Wi-Fi connectivity with worldwide coverage, is also being offered as a retrofit on in-service Challenger 604, Challenger 605 and Challenger 650 aircraft.
These data points must be seen in context.  It's not just airlines.  Any operator is going to seek ways to add its aircraft to their existing IT infrastructure.  This concept may not have been pioneered by Embraer, but to our knowledge, they were the first to articulate it.
Icelandair already has a unique connectivity option on its 757s, it uses two systems.  Moving to the ViaSat solution the airline is following the choice at American.  ViaSat claims it does not have any bandwidth capacity constraints because of Ka.  Gogo has its 2Ku solution which it claims can match or beat the Ka.  The fact that operators have the choice of 2Ku or Ka is a tremendous improvement over what existed even just two years ago.
The Gogo solution being offered to business jets demonstrates that operators of even small aircraft desire the "always on" connectivity.  Bombardier's selection of Ka underscores Gogo's announcement.  Once again, we have operators being able to choose from the two approaches.
On a visit to Embraer, we were shown their approach to aircraft health management.  The system is impressive to an outsider.  But it must be truly special if a customer has added its non-Embraer aircraft to this system!
We have mentioned before the growing importance of connectivity at another airline deep into this solution, Norwegian.  Passengers receive this connectivity for free.  Norwegian utilizes the GEE solution which also uses the Ku system.  GEE's solution uses Ku because it is said to be lower cost than Ka.  We reported on the Ka vs Ku battle in 2016.  Although dated 2013, here is another useful guide to this issue.  The chart below summarizes the tradeoff between these two.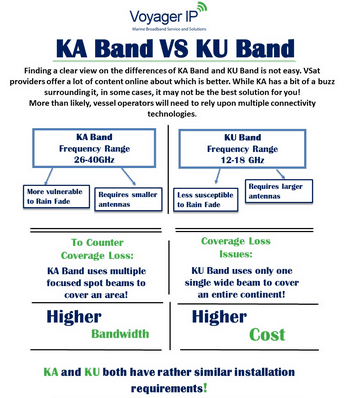 Regardless of where one ends up in the debate about connectivity, we can be reasonably certain of a few things: satellite is the way forward, e-Enabled aircraft will demand connectivity to upload and download data in-flight and passengers are going to expect "always on" connectivity.  Even Southwest Airlines boasts about its "gate to gate" connectivity, even though while your bags fly free, your data connectivity is not.
Another source of connectivity is Honeywell, which offered this amusing video.
Connectivity is now a "nose to tail" issue.  Everything about an aircraft benefits from connectivity.  MRO and Flight Ops are able to monitor an aircraft and undertake proactive measures to keep it in service.  Flight Ops can communicate with the flight crew at much lower cost than using ACARS.  This decision support is not seen as important until it becomes critical.  Flights can be disrupted by many issues, and low-cost communications enables improved content and context.  Airlines, for example, can dispose of satellite phones.   There are even issues of tracking aircraft, which post-MH270, are obvious.  Then there are the more obvious cabin impacts with e-commerce in real-time and passenger entertainment.  While we do not spend much time on passenger experience, it is clear that given the increasingly uncomfortable airline cabins in economy and no frills classes, anything that transports the mind elsewhere is a benefit.
SITA offers a useful guide to how their solutions impact airlines and connectivity.  As we move towards modern ATC and see e-Enablement given full expression, the connectivity issue will come into full bloom.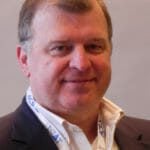 Co-Founder AirInsight. My previous life includes stints at Shell South Africa, CIC Research, and PA Consulting. Got bitten by the aviation bug and ended up an Avgeek. Then the data bug got me, making me a curious Avgeek seeking data-driven logic. Also, I appreciate conversations with smart people from whom I learn so much. Summary: I am very fortunate to work with and converse with great people.