Demand for new commercial airliners between this year and 2038 will grow to 39.210 aircraft worth $4.9 trillion, Airbus forecasts in its latest Global Market Forecast. It was presented in London on September 18 by Chief Commercial Officer Christian Scherer and Senior Vice President Bob Lange.
The European OEM thus revised its prediction upwards from 37.400 new aircraft presented last year and from 34.899 announced in 2017. Yet, Toulouse/Hamburg is more conservative that Seattle/Renton/Charleston, with Boeing forecasting a demand for 44.040 new airliners at the Paris Air Show.
What are the trends at Airbus? Of these 39.210 aircraft, 25.000 are for growth and 14.210 for replacement, compared to 26.540 and 10.850 respectively last year. Including 8.470 aircraft that will remain in service, the world's fleet is set to grow to 47.680 by 2038.
Airbus' forecast is based on 4 percent annual growth, slightly down from last year's 4.4 percent. This reflects the current geopolitical uncertainties, trade tensions, and a slow-down of the world's economy, which could change again over the next twenty years.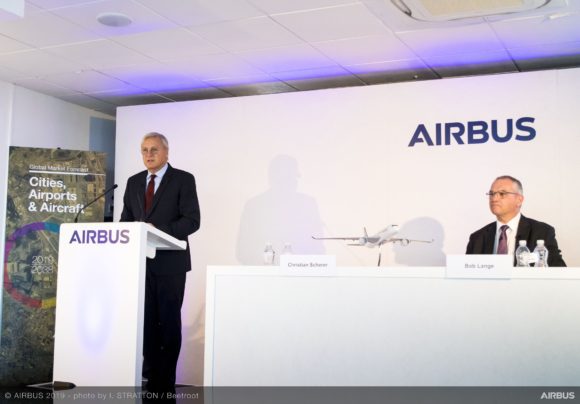 CCO Christian Scherer (left) and SVP Bob Lange. (Airbus)
Split by region, the Middle East will see the biggest traffic growth in Revenues per Kilometreat 5.6 percent, ahead of Asia-Pacific (5.4), Africa (4.8), Latin America (4.3), Russia (3.7), while the traditionally strong areas are lagging behind. Europe will see 3.0 percent growth, North America only 3.0 percent. US domestic traffic is to grow by 1,5 times compared to 2018-levels but China domestic is to soar at triple growth.
Small, Medium, and Large
This year's GMF makes for better comparison with the previous GMF as Airbus has kept the same methodology as in 2018. That year, it changed the segmentation of single-aisle, twin-aisle, and very large aircraft to fashion-industry labels like Small, Medium and Large. This considers capacity, range and mission type.
The Small segment (up to 3.000 nm range) contains the Airbus A220 and A319/A320/A321neo families, but the A321LR and A321XLR can fit in Small as well as in Medium. The A330-800 and -900 are per definition Medium-aircraft (up to 5.000 nm range), but some fall within the Large segment which is the domain of the A350-900 and -1000. The latter was classified as Extra Large in the previous GMF but this class is no longer listed as the A380 is no longer included.
Taking a better look at Small, Airbus identifies a market of 29.720 aircraft, which covers 76 percent of the market. This compares to 28.550 last year at an identical market share.
For Medium, Airbus forecasts demand for 5.370 new airliners, or 14 percent market share. Last year's GMF showed 5.480 aircraft with a 15 percent share.
The Large-segment only covers 10 percent market share with 4.120 aircraft, up one percent from last year's combined Large (1.760) and Extra Large (1.590) forecast for 3.350.
From this, it is clear that Airbus sees demand shift between categories. Small remains the biggest, Medium is losing but has shifted partly towards Large, which is almost 800 aircraft bigger than last year. It reminds us of a remark of Boeing's Randy Tinseth at last year's Farnborough Airshow, who was surprised that Airbus with is then-new segmentation seemed to have taken a 1.000 large aircraft out of its forecast. Some are back, it seems.
The GMF forecasts demand for 850 freighters, of which 499 mid-sized 40-80 tonnes payload (472 last year) and 356 large 80+ tonnes (354). Aircraft service is set to increase in value to $ 4.9 trillion, more than doubling over last year's 2.2 trillion forecasts. Pilot demand will go up from 540K to 550.000, with technicians up from 630K to 640K.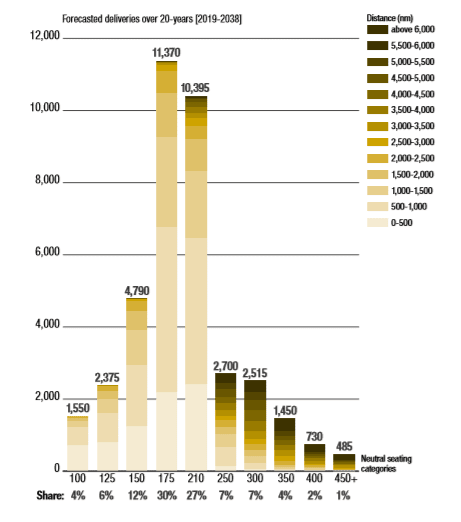 A graphic on page 27 of the latest GMF gives a clear view of where Airbus thinks the market really is looking at the size of aircraft. That's in the 175-seat segment with 11.370 aircraft, closely followed by the 210-seat segment at 10.395. Still, there is a market for 2.700 in the 250-seat category which is the Middle of the Market sought by Boeing to justify the launch of its New Mid-market Aircraft (NMA) or 797. Like last year, Airbus says there is no need for a dedicated and costly new mid-market aircraft as it has the segment covered by the A321neo and A330neo, especially since adding the A321XLR to its portfolio this summer.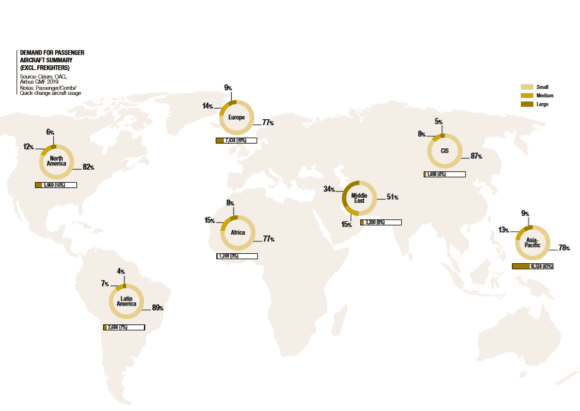 Asia-Pacific strongest region
By region, Asia-Pacific sees the highest demand for new airliners at 16.324, of which 78 percent are Small, 13 Medium and 9 Large. Europe is next at 7.434 aircraft: 77 percent Small, 14 Medium, and 9 Large. North America needs 5.969 aircraft, 82 percent Small, 12 Medium and only 6 percent Large. The Middle East requires 5.200 new airliners, 51 percent Small, 15 Medium and 34 percent Large, the biggest of all areas. Latin America has an appetite for 2.684 aircraft, 89 percent Small, 7 percent Medium and only 4 percent Large. Russia/CIS needs 1.498 airliners, 87 percent Small, 8 Medium and 5 Large. In Africa, there is a demand for 1.249 airliners: 77 Small, 15 percent Medium and 8 percent Large.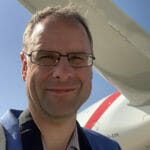 Active as a journalist since 1987, with a background in newspapers, magazines, and a regional news station, Richard has been covering commercial aviation on a freelance basis since late 2016.
Richard is contributing to AirInsight since December 2018. He also writes for Airliner World, Aviation News, Piloot & Vliegtuig, and Luchtvaartnieuws Magazine. Twitter: @rschuur_aero.