CFM International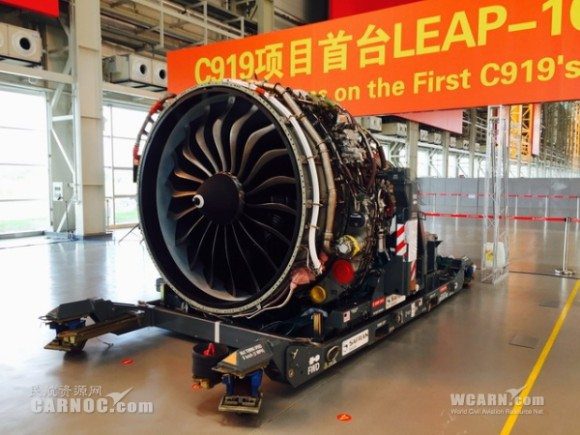 COMAC and CFM International celebrated delivery of the first LEAP-1C engine for the C919 prototype yesterday.  The second Leap-1C engine is expected to be delivered to COMAC in August.
The first C919 prototype is in final assembly in Shanghai. The fuselage has been completed and mobile systems are being installed.  But first flight had been postponed to 1H16. Deliveries are scheduled for 2018 but we anticipate slipping to closer to 2020.
Airbus' A320neo flight test program remains a source of interest.  Tracking the program we note that the P&W powered airplane is not flying, but has resumed ground testing. Airbus tells us "it will fly in the coming weeks" and is doing ground tests now. Continue reading →
Take a look at the LEAP flight test hours on the neo through the start of June.  As of COB yesterday the program has accumulated nearly 14 hours of block time and just over 8 hours of flight time.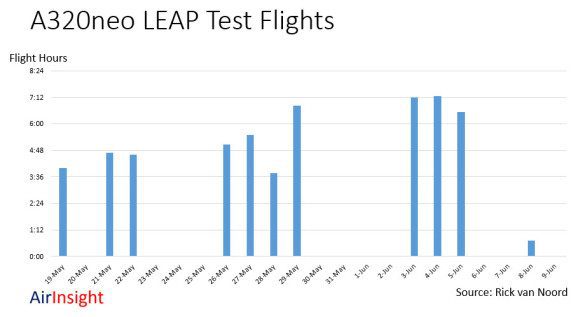 As the numbers show, the LEAP is building hours steadily. The amount of time between push-back to takeoff has shrunk and now looks like to be about ten minutes.
Both neo engine programs appear to be on target for their development time frames, early 2016 for GTF and 2017 for LEAP.  Both are expected to achieve their performance targets. We won't know about reliability and maintenance costs for certain until they are in service, but preliminary indications indicate the GTF is performing as planned, while the LEAP is just starting its testing program and it is too early to tell quite yet.
As another key program, the A320neo progress is important to follow. The chart below lists the flight hours to date. We will keep the P&W aircraft in blue and the CFM aircraft in green. Continue reading →